Gluttony at its Finest in Short Film at the Hirshhorn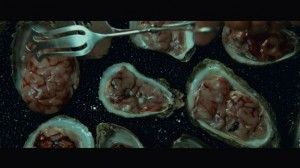 Based on the grotesque imagery of the screen shots of strange food and even stranger characters I saw beforehand, I was hesitant to go see Phoebe Greenberg's critically acclaimed film, Next Floor. But as soon as I sat back in the Hirshhorn's darkened Black Box theater, I immediately realized this visually stunning piece was going to be food for thought.
Filmed in a richly desaturated color palette (think The Sopranos) and occupied by characters extreme in appearance and appetite, it is gluttony at its finest. Lavishly dressed guests at a dinner party held in an abandoned house tear at an abundance of food in a visceral and carnal frenzy. The scene takes place on the  top floor of the building and the ever-increasing weight of the diners and their feast-laden table pushes the limits of the creaking floorboards. When the floorboards can bear no more, they burst, sending table and guests crashing through to the next floor. Yet servers keep serving, and the dinner guests keep dining, gorging themselves, even as boards of the consecutive floors continue to break. Undeterred, the diners eat their way to a Dante-esque descent into damnation, eventually plummeting into an endless abyss. Is this a post-consumption era morality tale?
The short film, just twelve minutes of highly-stylized suspense, has garnered many honors, including Best Short Film at the 2008 Cannes Film Festival and is on view at the Hirshhorn through April 11.
This Thursday, February 25, from 7 to 8 PM, meet the woman behind the vision, creator and producer Phoebe Greenberg will discuss her work in the Lerner Room at the museum.