Events: Peacock Room Reopens, Earth Day Celebrations
Monday, April 18 Peacock Room Comes to America: A new view of Whistler's Peacock Room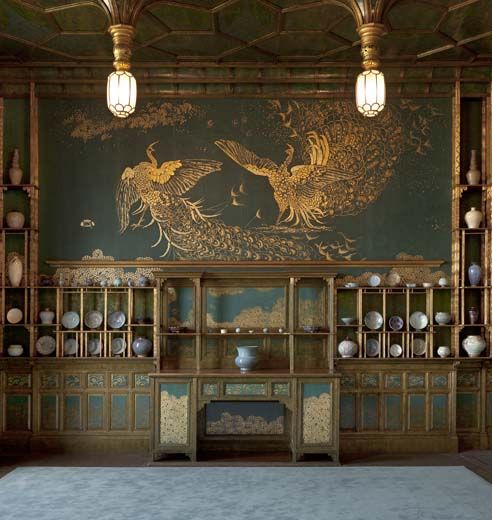 Monday, April 18 Peacock Room Comes to America: A new view of Whistler's Peacock Room
The Peacock Room at the Freer Gallery is recently restored to its appearance in 1908, when the museum's founder Charles Lang Freer filled its shelves with ceramics he had collected throughout Asia. For those of you who skipped DC to spend your spring break in the Bahamas, you can check out the room, in all its splendor in 360 degrees, thanks to the Google Art Project and the Freer Gallery. James McNeill Whistler's chamber, once the dining room of a wealthy British merchant who had hired the artist to make a few touch ups to the decor, becomes now a work of art that according to critic Peter Schjeldah, is a "synesthetic fusion of dazzling spectacle and intimate touch." The room will be available in its new incarnation through the Spring of 2013.
Tuesday, April 19 How healthy is the Gulf of Mexico now?
As the world's media attention is largely focused on the more recent environmental disasters unfolding at Japan's Fukishima power plant, today's anniversary of the Deepwater Horizon oil spill in the Gulf of Mexico, brings the dialogue back home. A panel of scientists will discuss the present state of the Gulf and its future at the National Museum of Natural History. Speakers include: David Hollander, University of South Florida; Judilee Marrow, National Zoo; John Stein, NOAA; James Bonner, Clarkson University. Free. 6:30 PM to 8:30 PM. National Museum of Natural History. ASL interpretation will be provided.
Wednesday, April 20 Junkyard Pirates
Pirate puppets made of trash? It must be Earth Day at the Smithsonian! Did you know that a pirate's favorite exclamation, "Aargh" or "RRRR!" stands for Reduce, Reuse, Repair and Recycle? Full of songs and fun for ages 3 to 10. Tickets are required. Rates are $4 child member; $4 member; $5 child nonmember; $3 child under 2; $6 general admission. Tickets may be purchased online or at the Resident Associate Program box office located in the Ripley Center on the National Mall. Showtimes are 10:15 and 11:30 AM through Friday.
Thursday, April 21 Grazia Toderi Artist Talk
As the Hirshhorn's exhibition, "Directions: Grazia Toderi" opens, the artist herself kicks things off in an evening lecture at the museum, when she'll share  her recent projections and drawings.  According to the museum, her works "transform the artifacts of a culture obsessed with technology and surveillance into celestial meditations both poetic and chilling."  Free. First come, first served. 6:45 PM. Hirshhorn Gallery and Sculpture Garden.
Friday, April 22 Party for the Planet!
Celebrate Earth Day at the National Zoo. Family-friendly event. RECYCLE: bring small electronics to be recycled. REDUCE:  learn how you can use fewer resources at home and at work. REUSE & REPLENISH: make a newspaper planter, fill with seeds and plant in your yard.  Free. 10:00 AM to noon. National Zoo