Events May 3-5: American Civil Rights, Asian Pacific American Heritage Month and Interactive Robot Games
This weekend, tour America's shift towards equality, meet local Asian Pacific American writers and celebrate Children's Day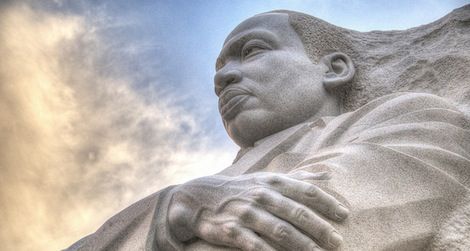 Friday, May 3: Exhibition Tour: Changing America
This year is a big one for celebrating civil rights; 2013 marks both the 150th anniversary of the Emancipation Proclamation and the 50th anniversary of the March on Washington, in which Martin Luther King, Jr. told the nation he had a dream of equality. Changing America: The Emancipation Proclamation, 1863, and the March on Washington, 1963 celebrates both momentous events with related historical objects, including the pens Abraham Lincoln and Lyndon Johnson used to sign the Emancipation Proclamation and Civil Rights Act, respectively. Today, stop by the exhibition for a tour that explains the various objects' significance. Free. 2 p.m. African American History Museum.
Saturday, May 4: I Want the Wide American Earth Family Festival
Happy Asian Pacific American Heritage Month! To kick off the month's celebration of Asian Pacific American culture, as well as to show off its new exhibit I Want the Wide American Earth, the American History Museum has organized arts, crafts and a scavenger hunt today, along with an afternoon of storytelling and spoken word performances. Guests include local writers Wendy Wan-Long Shang (The Great Wall of Lucy), Eugenia Kim (The Calligrapher's Daughter) and Scott Seligman (The First Chinese American: The Remarkable Life of Wong Chin Foo) and spoken word extraordinaire Regie Cabico. Free. 11:30 a.m. to 4 p.m. American History Museum.
Sunday, May 5: Childen's Day
Keep the Asian Pacific American Heritage Month festivities going! Today, the American Art Museum celebrates Children's Day, a traditional Korean holiday for kids, with arts and activities inspired by Nam June Paik (1932-2006), an avant-garde musician and installation and video artist whose work is on display in the museum. Kids can play with interactive TV and robot games and go on a scavenger hunt (in case you missed yesterday's!). Free. 11:30 a.m. to 5 p.m. American Art Museum.
Also, check out our Visitors Guide App. Get the most out of your trip to Washington, D.C. and the National Mall with this selection of custom-built tours, based on your available time and passions. From the editors of Smithsonian magazine, the app is packed with handy navigational tools, maps, museum floor plans and museum information including 'Greatest Hits' for each Smithsonian museum.
For a complete listing of Smithsonian events and exhibitions visit the goSmithsonian Visitors Guide. Additional reporting by Michelle Strange.