Events May 21-23: A WWII Fighter Pilot's Tale, Asian Pacific American Culture and the Mississippi River
Attend a talk by a decorated WWII fighter pilot, explore a new American History Museum exhibition and learn how you can help the Mississippi River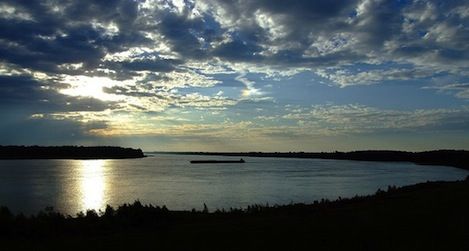 Tuesday, May 21: Charles A. Lindbergh Memorial Lecture: Bud Anderson
Aircraft enthusiasts, WWII buffs and anyone who has ever dreamed of flight, unite! WWII fighter pilot Bud Anderson is in the house this evening to talk about his experience in 116 combat missions, and what he has learned from logging more than 7,500 flying hours in more than 130 types of aircraft. If you want a preview of what's in store, check out his memoir, To Fly and Flight. Free. 8 p.m., with a 7 p.m. screening of the film Fighter Pilot. Air and Space Museum.
Wednesday, May 22: Museum Highlights Tour in Japanese: "I Want the Wide American Earth: An Asian Pacific American Story"
Happy Asian Pacific American Heritage Month! In celebration, the American History Museum has launched I Want the Wide American Earth, an exhibition that explores how Asian Pacific Americans of diverse cultures have shaped and been shaped by America, from the earliest Asian immigrants centuries ago to modern Asian communities. For a particularly authentic experience of one of the cultures represented, stop by the museum this afternoon and listen to a tour led in Japanese as you peruse the exhibition's artifacts and stories. Free. 1 p.m. to 2 p.m. American History Museum.
Thursday, May 23: Troubled Waters: Mississippi River Story
The Mississippi River stretches over 2,530 miles from Minnesota to the Gulf of Mexico, which means that once a drop of its waters has completed its journey, it has traveled across the entire country. America's heartland has had a profound effect on the river, from canal and dam construction projects to pollution. The 2010 documentary Troubled Waters: Mississippi River Story traces our civilization's effects on the river throughout our nation's history, and offers some concrete solutions to the river's troubles. Following the film, education specialist Linda Maxwell will lead a discussion on the the river and what we can do to improve it. Free (for reservations call 202-633-4844). 11 a.m. Anacostia Community Museum.
Also, check out our Visitors Guide App. Get the most out of your trip to Washington, D.C. and the National Mall with this selection of custom-built tours, based on your available time and passions. From the editors of Smithsonian magazine, the app is packed with handy navigational tools, maps, museum floor plans and museum information including 'Greatest Hits' for each Smithsonian museum.
For a complete listing of Smithsonian events and exhibitions visit the goSmithsonian Visitors Guide. Additional reporting by Michelle Strange.