Events May 1-3: Ripley Garden Tour, the Multi-colored Universe, and Roni Horn
This week, take a garden tour, discover the universe through cutting edge developments in X-ray telescopes, and meet acclaimed artist Roni Horn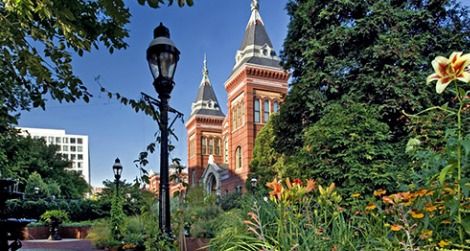 Tuesday, May 1 Mary Livingston Ripley Garden Tour
Happy May Day! May 1st kicks off Smithsonian Gardens' Mary Livingston Ripley Garden Tour, which runs every Tuesday through October. The garden's namesake, Mrs. S. Dillon Ripley, wife of the Smithsonian Institution's eighth Secretary, dreamed up a "fragrant garden" on the eastern border of the Arts and Industries Building, which was originally designated to become a parking lot. In 1978, she made the dream a reality with the help of the Women's Committee of the Smithsonian Associates. Join horticulturist Janet Draper for a guided stroll through the garden. Free. 2:00 p.m. Meet at the fountain in the Mary Livingston Ripley Garden.
Wednesday, May 2 X-Ray Astronomy and the Multicolored Universe
Space telescope Chandra's X-ray camera can see some of the most dynamic events in space—erupting black holes, exploding stars, and colliding galaxies. In this lecture, Jonathan McDowell, an astrophysicist at the Harvard Smithsonian Center for Astrophysics, explains how X-ray telescopes like Chandra probe cosmic dramas. $40 for general admission, $30 for members. 6:45 p.m. to 8:15 p.m. S. Dillon Ripley Center.
Thursday, May 3 Meet the Artist: Roni Horn
The New York Times once remarked, "Sometimes it seems as if Roni Horn's art were considered the greatest thing since sliced bread, at least in certain regions of the art world." Horn's work, which spans sculpture, photography, painting and drawing, has certainly attracted attention for its provocative statements on gender, androgyny and identity. In this latest of the Hirshhorn's "Meet the Artist" series, Horn will discuss her recent projects and inspirations. Free. 7:00 p.m. Hirshhorn Museum.
For a complete listing of Smithsonian events and exhibitions visit the goSmithsonian Visitors Guide. Additional reporting by Michelle Strange.