Events for the Week of 11/16-20: Free Movie Admission for Cell Phones, Stargazing, New Deal Artists and the Films of John Ford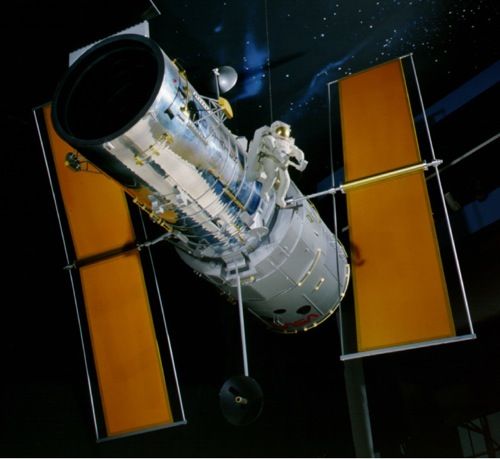 Monday, November 16: Free Admission to Wild Ocean 3D for Recycled Cell Phones
Do the environment a favor and part with your old cell phone in an ecologically friendly way—and catch a movie in return. From now until November 22, visitors who present a cell phone for recycling at the theater's box offices will receive one free admission to Wild Ocean 3D—a new IMAX experience that explores the effects of global warming on ecosystems off the coast KwaZulu-Natal Coast in South Africa. Natural History Museum.
Tuesday, November 17: The Significance of the Hubble Space Telescope
One of the Hubble Space Telescope's cameras, WFPC2, is now in the Smithsonian's collections and on display. To celebrate this recent acquisition, come on out to the Air and Space Museum for an evening of astrological activities. At 5:30 PM, get into the stargazing groove at the new Public Observatory. At 7:30 PM, meet astronaut John Grunsfeld, Ph.D. who participated in five NASA space missions. At 8:00 PM, Grunsfeld will discuss the significance of Hubble. A book signing will follow. This event is free, but tickets are required. To reserve your spot, go online and fill out the Ticket Request Form, or call 202-633-2398. Air and Space Museum, 5:30 PM
Wednesday, November 18: National Geography Awareness Week
Celebrate National Geography Week at the Air and Space Museum! Think your knowledge of outer space technology is up to snuff? Come participate in the Geography from Space contest and enjoy programs and demonstrations that the whole family can enjoy. Free. Air and Space Museum, 10:00 AM-3:00 PM
Thursday, November 19: When Art Worked
FDR's New Deal Programs were a big deal for out of work artists. Under the employ of the US government, filmmakers, painters, photographers, landscape designers, architects and composers plied their craft and created stunning works of art that reflected America during the Great Depression. This evening, historian Roger Kennedy is on deck to discuss this landmark mobilization of artists. A book signing will follow the lecture. Free. American Art Museum, 7:00 PM
Friday, November 20: Reel Portraits: Films by John Ford
In conjunction with the exhibition Faces of the Frontier, the National Portrait Gallery is showing several films by legendary director John Ford. Tonight, it is Fort Apache starring John Wayne, Henry Fonda and Shirley Temple (sans tap shoes and Mr. Bojangles) in a thinly veiled account of Custer's last stand. A conversation with Frank H. Goodyear III, curator of the exhibition Faces of the Frontier, follows the screening. Free. Portrait Gallery, 7:00 PM.
For more information on events and exhibitions at the Smithsonian museums, check our companion website, goSmithsonian.com, the official visitor's guide to the Smithsonian.