Events: Caribbean Music, Animal Care, Thomas Jefferson and More!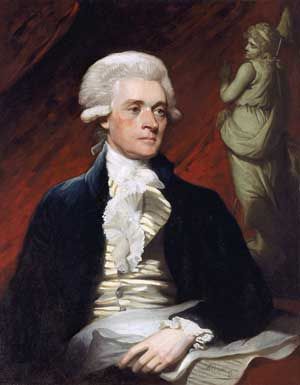 Monday, July 19: ExplorAsia: A Drop-in Art Adventure for Families
Come on down to Freer Gallery 5 and immerse yourself in the art of elaborately-decorated folding screens which will transport you back to 17th and 18th century Japan. Discover what life was like in the city and the country, act out what you see in the scenes on the screens, write a poem and get to know what tools the artists used to create these pieces. This event is perfect for family members of all ages. Free. Freer, 2:00-4:00 PM.
Tuesday, July 20: Goombay: The Caribbean Experience
Today's program is perfect for persons ages 5-12 and will teach them about the Bahamian musical tradition of Goombay. With David Boothman on keyboard and steel drums, Diann Marshall singing and dancing and Elizabeth Melvin on marimba and percussion, you'll take a musical journey through the Caribbean Islands. Not able to make it out today? No worries, this event repeats on July 22, 27, & 29. Free, but registration is required. To register, call 202-633-4646. African Art Museum, 11:00 AM.
Wednesday, July 21: Keepers of Conservation: Animal Care Science at the National Zoo
Because humans haven't been the best stewards of this planet, certain animal populations are in frightening decline—which has caused conservation groups and scientists to focus their efforts on observing behavior and biology of animals in captivity in order to expand and enrich our knowledge base of the natural world. In this lecture, a panel of experts in animal husbandry will discuss the challenges zookeepers face when working with threatened animals. The panelists include: Matt Evans, Reptile Discovery Center biologist; Jilian Fazio, Asia Trail keeper; Debbie Flinkman, Elephant House keeper; Sara Hallager, Bird House biologist; Mike Henley, Invertebrate Exhibit keeper; and Erin Stromberg, Great Apes keeper. Free, but please RSVP. You may RSVP using this online web form. National Zoo, 6:30 – 9:00 PM.
Thursday, July 22: Face-to-Face Portrait Talk: Thomas Jefferson
In this week's portrait talk, curator Brandon Fortune will talk about Mather Brown's portrait of the 3rd President of the United States, Thomas Jefferson. Free. Portrait Gallery, 6:00-6:30 PM.
Friday, July 23: Made in Hong Kong Film Festival: Rule Number One
In this police drama cum supernatural thriller, a young cop assigned to the Miscellaneous Affairs Department investigates incidents of paranormal activity—only to find himself targeted by a mysterious spirit. This film is presented in Mandarin and Cantonese with English subtitles. Free. Freer, 7:00 PM.
​For updates on all exhibitions and events, visit our companion site goSmithsonian.com