Events: "Born to be Wild 3D," Smithsonian Craft Show, Disco at the Postal Museum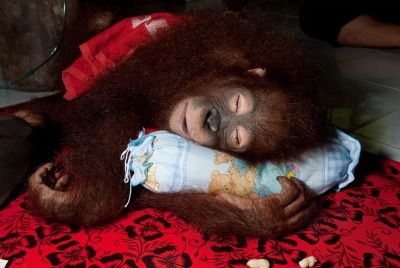 Monday April 11 Born to be Wild 3D
Born to be Wild 3D features the conservation efforts of primatologist Birute Galdikas with orangutans in Borneo, along with that of Dame Daphne Sheldrick's work with elephants in Kenya. Both women live near the animals, rescuing them and returning them to live in the wild. Film is shown at 2:25, 4:25 and 6:25 daily. The Johnson IMAX Theater at the Natural History museum. Tickets are $9 adults, $8 seniors and $7.50 children ages 2 to 12. Toll free phone 866-868-7774 or online.
Tuesday April 12 Draw & Discover
Be inspired by the paintings, sculptures and installations at the American Art Museum and spend some time sketching at the Luce Foundation Center's workshop. Free, but bring your own sketchbooks and pencils. American Art Museum, 3:00-4:30PM. This event repeats every Tuesday at the same time and location.
Wednesday April 13 Nile Style
How does a nation's history affect its food? Cookbook author Amy Riolo provides a virtual tour of Egypt's history and cuisine. Light refreshments will be provided by the Embassy of Egypt. Riolo's books, including Nile Style will be offered for sale. 7:00 PM to 9:00 PM. $25 members, $30 non members. Tickets may be purchased online or at the Resident Associate Program box office located in the Ripley Center on the National Mall. Ripley Center.
Thursday April 14 Smithsonian Craft Show
More than 100 American artists will be displaying and selling their wares at this year's Smithsonian Craft Show. The National Building Museum makes a perfect backdrop for the beautiful hand-crafted work of the nation's top artisans. 10 AM to 8 PM through April 17. Reduced price tickets are $6 after 6 pm Thursday and Friday. Daily admission is $15/person, 12 and under free (no strollers permitted). Two day admission is $20/person. Call the Craft Show Office at 202-633-5006 or 888-832-9554 or online. Event is at the National Building Museum.
Friday April 15 DJ Toxic Avenger
Disco Dance Party at the Postal Museum provides visitors and locals alike a lively end to a long work week or a spring break vacation. 9 PM to 1 AM. Must be 21 or older to attend the event. Tickets are: $30 members, $35 general admission (and includes 2 drink tickets). Purchase tickets online or at the Resident Associate Program box office, located in the Ripley Center on the National Mall. Postal Museum.
​For updates on all exhibitions and events, visit our companion site goSmithsonian.com