Events April 3-5: Spring Break, Let's Move! and Baseball Presidencies
Spend spring break at the National Portrait Gallery, explore the Smithsonian gardens, and learn about baseball's special place in our presidential history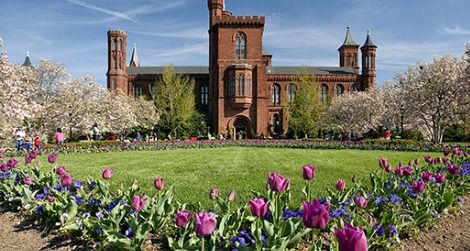 Tuesday, April 3 Spring Break at the National Portrait Gallery
Need to occupy a bored child on spring break? Take the family to the National Portrait Gallery for storytelling and arts and crafts in a special program through April 6. Drop in for a Portrait Story or pick up a Portrait Discovery Kit to learn about famous Americans using the museum's selection of self-guided games and activities. Free. 1:00 p.m. to 4:00 p.m. Education Center, National Portrait Gallery.
Wednesday, April 4 Let's Move! with Smithsonian Gardens
Winter couch potatoes, it's time to shake off the doldrums and get moving into spring! As part of First Lady Michelle Obama's "Let's Move! Museums and Gardens" campaign, Smithsonian Gardens has set up a scavenger hunt that lets kids and adults exercise body and mind at the same time. Explore nine Smithsonian gardens through clues and trivia. Don't forget to bring a pedometer to count your steps. Free. Pick up a brochure at most museum information desks. Smithsonian Gardens.
Thursday, April 5 Baseball and the Presidency
Which president was a professional baseball player? Baseball enthusiast and historian Mel Marmer has the answer and more in this discussion of how our nation's leaders have enjoyed our national pastime throughout history. What better way to celebrate the start of baseball season? Free. 12:00 p.m. American Art Museum.