Events April 26-28: Arbor Day, Expert Collectors and Classical Music
This weekend, plant a tree, learn about the art of craft collecting and listen to one of Haydn's masterpieces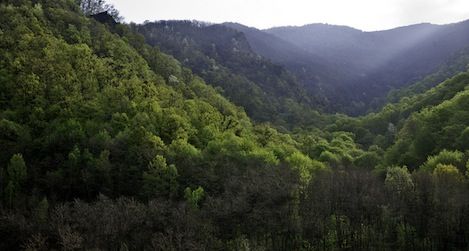 Friday, April 26: Arbor Day at the Anacostia Community Museum
Happy Arbor Day! This annual holiday, started by Sterling Morton in 1871, is all about caring for and planting trees. The Anacostia Community Museum is celebrating the occasion with a day-long series of plantings, workshops and hands-on activities for all ages. Learn about the holiday's history, craft some stick dolls and help save the environment. Free. 11 a.m. to 3 p.m. Anacostia Community Museum.
Saturday, April 27: My Collection is My Passion
Like collecting things? So do the five panelists in a discussion at Smithsonian's Craft Show this afternoon—they're so enthusiastic about collecting, in fact, that they turn the hobby into an art. As collectors of glass, wood, ceramics and other fine crafts, they will talk about the challenges and pleasures of acquiring the objects of their passions. Free. 3 p.m. National Building Museum.
Sunday, April 28: Axelrod String Quartet
The Axelrod String Quartet is back at the American History Museum this evening for the finale of its three-part concert series, which has featured the quartets of Haydn's Op. 71. Tonight is Op. 71 No. 3, a colorful and energetic piece you can preview here. One hour prior to the show, Kenneth Slowik, SCMS artistic director and recipient of the 2011 Smithsonian Secretary's Distinguished Research Lecture Award, will give a lecture on Haydn's music, life and times. $31 general admission, $25 member, $23 senior member (tickets here). 7:30 p.m. to 9:30 p.m., with a 6:30 p.m. pre-concert lecture. American History Museum.
Also, check out our Visitors Guide App. Get the most out of your trip to Washington, D.C. and the National Mall with this selection of custom-built tours, based on your available time and passions. From the editors of Smithsonian magazine, the app is packed with handy navigational tools, maps, museum floor plans and museum information including 'Greatest Hits' for each Smithsonian museum.
For a complete listing of Smithsonian events and exhibitions visit the goSmithsonian Visitors Guide. Additional reporting by Michelle Strange.