Events April 24-26: the Genomics Revolution, Musicians from Marlboro, and Thomas Mobley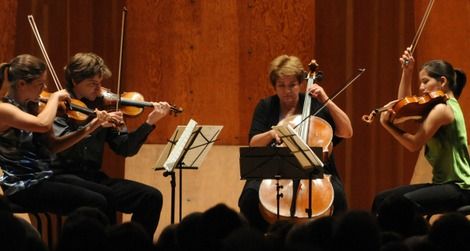 Tuesday, April 24 The Genomics Revolution and the Origins of Life
Discover new perspectives on how genes affect evolution in this seminar with Smithsonian geneticist Rob Fleischer. Starting with the basics of DNA, Fleischer will examine the recent revolutions in genetic research. Learn how comparative genomics help us to understand how organisms fight pathogens that cause disease, and even how this new field helps in conservation of endangered species. $20 for members, $30 for nonmembers. 6:45 p.m. S. Dillon Ripley Center.
Wednesday, April 25 Musicians from Marlboro III
Six musicians from the Marlboro Music Festival, among the top musical havens for young talent, will perform at the Freer Gallery. Enjoy a performance of Mozart's String Quintet, K. 614; Schumann's Piano Quintet, op. 44; and Bartók's String Quartet no. 6. The Washington Post wrote of one Marlboro concert, "Impeccable ensemble work, unbridled energy and boatloads of virtuosity produced an electrifying performance." Free tickets required. 7:30 p.m. Freer Gallery.
Thursday, April 26 Thomas Mobley Talks Filmmaking
Unpack the art of filmmaking with Thomas Mobley of the multimedia production studio, Creative JunkFood, Inc. Mobley will discuss the elements of the film process and his installation, "Conversations in the Contemporary," on view at the Anacostia Community Museum. Free, reserve a spot at 202-633-4844. 7:00 p.m. Anacostia Community Museum.
For a complete listing of Smithsonian events and exhibitions visit the goSmithsonian Visitors Guide. Additional reporting by Michelle Strange.