Events April 19-22: Native American Dolls, Finding Your Way, A Troubled Korean Family and Earth Day
This weekend, meet Native doll makers, learn how clocks help us navigate, watch a mother and son reconnect and reduce your carbon footprint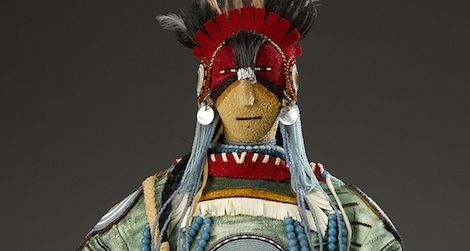 Friday, April 19: Native Artists: Doll Makers
Far more than toys, Native dolls embody the traditions, beliefs and rich cultural heritage of their Native makers. This weekend, a three-generation family of craftswomen, Joyce, Juniata and Jess Rae Growing Thunder, will discuss their art and share the stories of their Assiniboine-Sioux people. Their figures, which are made of buffalo hair, hide, porcupine quills and shells, are currently on display in "Grand Procession: Dolls from the Charles and Valerie Diker Collection" Free. 11 a.m. to 1 am and 2 p.m. to 4 p.m. (repeats Saturday). American Indian Museum.
Saturday, April 20: Time and Navigation Family Day
Sea captains once relied on chronometers to calculate where they were. Today, we use satellites, and anyone can tap the Global Positioning System's satellite-borne clocks with their cell phone to figure out exactly where he or she is or how to get somewhere. "Time and Navigation: the Untold Story of Getting from Here to There," a new exhibit at the Air and Space Museum, traces how revolutions in timekeeping over the past three centuries have helped us find our way. Head over to the museum today for a family day that celebrates the exhibit's opening. Free. 10 a.m. to 3 p.m. Air and Space Museum.
Sunday, April 21: Juvenile Offender
In director Kang Yik-wan's award-winning Juvenile Offender (2012, Korean with English subtitles), a troubled 16-year-old (played by the youngest person ever to win the Tokyo International Film Festival's Best Actor award) winds up in a juvenile detention facility, where he is contacted by the mother who gave him up for adoption when he was born. The film is about the pair's attempt together to pick up the pieces of their broken lives. If the trailer is any indication, you'll want to make sure you bring some tissues. Free. 2:30 p.m. Freer Gallery.
Monday, April 22: Reclaiming the Edge on Earth Day
What can we do to help the environment? How do we cut down on emissions, promote ecology and leave smaller carbon footprints? In celebration of Earth Day today, the Anacostia Community Museum is telling stories, running hands on-exhibits, giving river tours, planting trees and holding recycling demonstrations to teach us how to be better stewards of our planet. Free. 11 a.m. to 3 p.m. Anacostia Community Museum.
Also, check out our Visitors Guide App. Get the most out of your trip to Washington, D.C. and the National Mall with this selection of custom-built tours, based on your available time and passions. From the editors of Smithsonian magazine, the app is packed with handy navigational tools, maps, museum floor plans and museum information including 'Greatest Hits' for each Smithsonian museum.
For a complete listing of Smithsonian events and exhibitions visit the goSmithsonian Visitors Guide. Additional reporting by Michelle Strange.