Events April 13-15: Visio-Disco, Royal Mail Ship Titanic Centennial, Insights into Coltrane and Hancock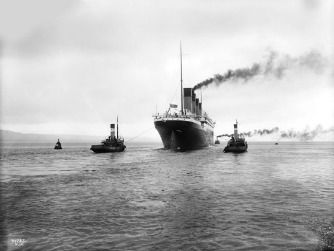 Friday, April 13 Visio-Disco: A Remix of Music and Art
One of the city's most spectacular spaces gets a jolt of performance spectacle as the Kogod Courtyard is transformed into a high-energy nightspot where international music, art, culture and dance meet. Enjoy a multimedia event filled with movement, sound and sights. Come before 10 p.m. and take a tour of the many faces in the National Portrait Gallery before heading to the courtyard. Entertainment includes world beats by an international DJ and performances by t.r.a.n.s.i.t.s.c.a.p.e. a troupe of actors, musicians and dancers from Belgium. Part of Francophonie Cultural Festival 2012. Purchase tickets here starting at $30. One drink ticket included with admission. You must be 21 years or older to attend. 9 p.m. National Portrait Gallery.
Saturday, April 14 Family Day: Royal Mail Ship Titanic Centennial
One hundred years ago, the Titanic set sail on a voyage it would never complete. Yet, its journey continues as one of the most well-known and tragic disasters in our history. The stories buried beneath the surface live on through artifacts, objects and personal accounts. But did you know that the Titanic was the largest floating post office of its day?
Visit the National Postal Museum this Saturday for Family Day: Royal Mail Ship Titanic Centennial, a part of the Fire and Ice: Hindenburg and Titanic exhibit on display through January 6, 2012. Attendees will learn about the ship's official status as the RMS Titanic—Royal Mail Ship Titanic—and how travelers enjoyed on-board postal service. Some of the Titanic's 3,364 mailbags may be at the bottom of the North Atlantic, but due to the efforts of its mail crew comprised of both American and British clerks, many of these bags made it off of the ship before it went down. Learn about life on board, the postal workers who processed tons of mail at sea and join in on some hands-on activities. Free. noon to 3:30 p.m. National Postal Museum.
Sunday, April 15 Rhythm Cafe: Insights into Coltrane and Hancock
Celebrate Jazz Appreciation Month (JAM) with the Anacostia Community Museum and the National Portrait Gallery this Sunday at the Rhythm Cafe: Insights into Coltrane and Hancock event. Join Rusty Hassan, the scholarly host of  D.C.'s WPFW radio program "Jazz & More," in a discussion of the life and contributions of John Coltrane and Herbie Hancock, both of whom exist as icons of modern music. Award-winning Howard University Jazz Ensemble under the direction of Professor Fred Irby III will perform memorable works by both Jazz Giants to follow. This JAM program will be held at the National Portrait Gallery's McEvoy Auditorium. Free. For reservations, call 202-633-4866. 2 to 4:00 p.m. National Portrait Gallery.
For a complete listing of Smithsonian events and exhibitions visit the goSmithsonian Visitors Guide. Additional reporting by Michelle Strange.