"Driven" to Create
Jacolby Satterwhite cannot move his right arm. So, he uses his left arm to assist his right in painting, and his ingenuity has not gone unrecognized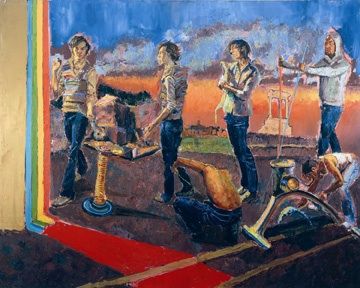 Jacolby Satterwhite, a student at the Maryland Institute College of Art in Baltimore, cannot move his right arm. So, he uses his left arm to assist his right in painting. The 21-year-old painting major's ingenuity, hard work and creativity haven't gone unrecognized. His oil on canvas, Remission & Resilience (above), just earned him a $20,000 grand prize in an exhibition entitled "Driven," which opened Saturday at the Smithsonian Institution's S. Dillon Ripley Center.
"I think it was about my complexity of having illnesses and cancer. It can show up anytime, so I just continued to work and be resilient through these odds," says Satterwhite, who lost mobility in his arm after a surgical procedure to treat bone cancer in his shoulder. "I was trying to create this piece about constant motion and activity, and I think it's about the idea of work and conquering obstructions."
Satterwhite created Remission & Resilience over the course of about two and a half weeks in 2006. The Columbia, South Carolina, native began painting while in high school at the South Carolina Governor's School for the Arts and Humanities. Satterwhite mostly works with oil, painting pastoral landscapes and narratives centered around one metaphor, though he is dabbling in animation and sculpture.
On the recognition, Satterwhite says, "It was very encouraging, and I hope to be an advocate for artists who feel like they have something holding them back or a disability. I just feel it's very rewarding in a testimonial sense. I am grateful, and I cannot wait to pursue projects, take care of my grad school applications and tuition with it . I feel like it's a blessing."
"Driven" is co-sponsored by VSA Arts, an international nonprofit created to promote and showcase artists with disabilities, and Volkswagen of America, Inc. On view through to December 31, the exhibition will include the works of 15 emerging artists between the ages of 16 and 25 with disabilities.
(Courtesy of Jacolby Satterwhite, Remission and Resilience, oil on canvas)