David Rockwell, the Oscars Set Designer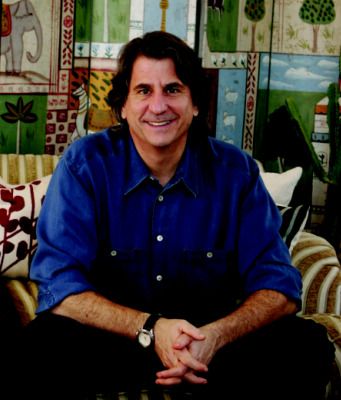 Last night after the red-carpet coverage, a segment on New York architect David Rockwell caught my attention. I know that guy, I thought; he won a design award last year from the Smithsonian Cooper-Hewitt, National Design Museum.
Rockwell designed the newly revamped and stunningly svelte stage set across which the equally svelte Hugh Jackman sang, danced and charmed his worldwide audience.
Rockwell told newspapers that he was going for a "nightclub" effect for the show. The theater's typically red hues shifted to cool blues for the night. A curtain made of 92,000 dangling Swarovski crystals framed the stage. At times, the band was onstage. And the web-like pattern on the stage floor mimicked that in Michelangelo's Piazza del Campidoglio in Rome.
Rockwell's firm has designed restaurants, Broadway sets ("Hairspray" and "Dirty Rotten Scoundrels"), the Jet Blue terminal at JFK, and city playgrounds.
Rockwell is all about playful reinvention. In fact, he had a leg up on the job going in; he knew the Kodak Theater's ins and outs because he designed it to begin with. Here are a few snippets from an interview I had with him at the time he won the Cooper-Hewitt's award.
There's such variety in your work. What do you look for in a project?
The thing that is most interesting to us is doing things where we don't know the answer before we begin. What I look for is a client who is curious and a chance to invent. A common thread through our work is trying to find ways to create surprise and delight through design.
Necco Wafers and a Lite-Brite helped inspire your set design for "Hairspray." Do you surround yourself with toys as you work?
I do. Our office is a big, habitable collage or playpen. One thing I collect is kaleidoscopes. They are interesting examples of taking things we're familiar with in the world and reframing those in a new and interesting way, jumbling up things to get a new view on them.
It's been said that you put people at the forefront of your work, often interviewing those who will be using the space to help inform your design.
One of our basic building blocks is people and looking at spaces from their point of view, how they move through it, how a space unfolds. So we start by creating a kind of narrative. I think so much of my inspiration in design is from the world of theater. I love theater, and I grew up in a family where my mom was involved in theater. If I'm working on a play, the script is the map. When we're creating a building or space, we have to extract that script from the clients we're working with. Our interviewing is really about finding that hidden DNA, those special elements about the client, the site, the location to build the story around.