Cooper-Hewitt Announces Design Award Winners
As part of National Design Week, National Design award winners celebrated their achievements with a gala held October 17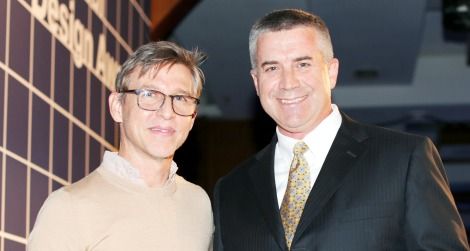 Last night, the Smithsonian's Cooper-Hewitt, National Design Museum, celebrated innovators of design both large and small with an awards gala, held in New York City. The gala kicks off National Design Week, an educational initiative that recognizes achievement and innovation in American design and honors the impact of design in everyday life. The honorees—winners of the National Design Awards and the People's Design Award—were presented with a trophy as unique as the celebration itself, handcrafted by the Corning Museum of Glass.
The honorees represent multiple aspects of the industry from architecture to commercial media ventures:
Winners of the National Design award were chosen through a submission process which began this fall, and included suggestions from leading designers, educators, journalists and design enthusiasts. The winners were selected from this pool via a jury, which chose the top nominees over a two-day period.
Here on Smithsonian.com, we invited the public to vote for a design of their choice—chosen from 20 nominees—to receive the People's Design Award. Past winners of the People's Design Award have included Marianne Cusato, designer of the Katrina Cottage, Toms Shoes, the Zōn Hearing Aid, the Trek Lime Bicycle, the Braille Alphabet Bracelet and Design Matters, a show about design and culture.
This year, the People's Design Award was given to the PackH2O Water Backpack, a backpack that allows water to be easily transported from a source to wherever it may be needed. The backpack, easier to carry than jerry cans or buckets is often used in places with little access to clean water, and includes a removable liner that can be sanitized with sunlight.
"Cooper-Hewitt has long been a champion of socially responsible design, most notably for our 'Design with the Other 90%' exhibition series," said Caroline Baumann, director of the museum. "I am truly delighted that the American public has chosen to recognize this design solution for the developing world.  Millions of people around the world lack access to a reliable source of clean water, and the PackH2O demonstrates the power of design to address this critical problem."
Started in 2006, National Design week will run through October 20, with events being held in New York and around the country.