When Concorde Begins Service, Passengers Went Transatlantic in a Jiffy
The average New York City to Paris flight time was three-and-a-half hours, compared to eight hours on a commercial jet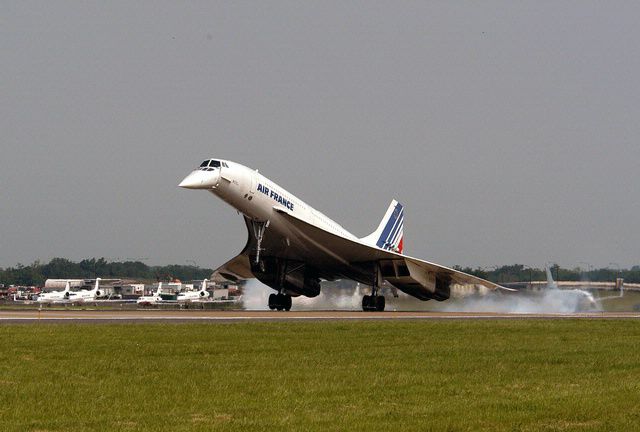 On January 21 , 1976, British Airways began a London-Bahrain service for its Concorde, and Air France commenced its Paris-Rio service.
Even in today's world of rakish planform stealth fighters, Concorde still cuts an impressive figure, with its huge delta wing, four aggressive engine air intakes and needle-thin fuselage. You can check out Concorde F-BVFA, the former star of Air France's fleet, at the Smithsonian's Udvar-Hazy Center in Chantilly, VA.
"It's one of the most beautiful airplanes ever to fly," says Robert van der Linden, chair of the aeronautics division at the National Air and Space Museum. Its designers, he said, "faced some of the most difficult problems, and solved them. Magnificent design, inherently inefficient."
Ideas for supersonic transport had been bandied about in the late 1950s by many countries, but the Concorde project ultimately got underway with an agreement between the British Aircraft Corporation and France's Aerospatiale on November 28, 1962. This joint effort and treaty between the British and French became the basis for the aircraft's name, "Concorde," meaning agreement. Initially, orders were placed for more than 100 Concordes by major airlines, but only 20 aircraft, including prototypes and test vehicles, were ever manufactured. British Airways and Air France began with seven each in their fleets. The very expensive Concordes were essentially "government-funded for political reasons," says van der Linden. "For prestige, technology, manufacturing," he adds, "not necessarily for economics."
By 1976 Concorde brought commercial supersonic flight to the masses. The well-to-do masses that is, with the average cost of a round-trip transatlantic flight costing about $12,000. Thanks to an average cruising speed of Mach 2.02, or 1,334 mph—a little over twice the speed of sound—the average New York City to Paris flight time on Corcorde was three-and-a-half hours, compared to eight hours on a commercial jet. However, Concorde seating was limited to 100 passengers, compared to nearly 400 in a Boeing 747.
Concorde possessed the greatest supersonic range of any aircraft, a feature necessary for transatlantic flights, making use of a favorable lift-to-drag ratio, limited payload, and engines that operated extremely efficiently at supersonic speeds. One of the most distinctive design features of Concorde, the ability to lower its nose section in front of the cockpit, came out of necessity. The streamlined design of Concorde with its extra-long pointed nose obscured the pilot's view during taxi and takeoff so the section could be lowered up to 12.5 degrees.
But despite its extraordinary technology, the aircraft was doomed. "It held great potential for awhile, but it did do that at a huge cost," van der Linden laments. "It was not sustainable."
The highly publicized crash of Air France Concorde F-BTSC, which killed all 100 passengers and nine crew members on July 25, 2000 in Gonesse, France, signaled the end of the Concorde's service. During take-off the aircraft ran over a titanium strip that had fallen off the engine of a Continental Airlines DC10, bursting a tire  and tossing up debris that struck the underside of the wing. Leaking fuel ignited,and the airplane fell out of the sky on take-off, trailing fire in its wake.
After the accident, modifications were made to the aircraft and flights were re-started Nov 7, 2001. However, dwindling passenger numbers, a poor economy and rising maintenance costs resulted in Concorde no longer being economically sustainable. In 2003, both the French and the British fleets were retired.
Van der Linden was on the final Air France Concorde flight. He flew in the one that now resides at the Udvar-Hazy Center.  "What struck me as odd is that the French, for that last flight, there were a couple teary eyes, and that was it," he remarked. "When they took the last British Concorde out of service, you would have thought Princess Di had died again! They were extremely emotional. It was a great source of pride."