Celebrate Halloween with Smithsonian Folkways!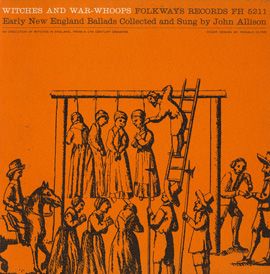 Halloween isn't the most musical holiday out there. Repeated listenings of "Monster Mash" (and it's infrequently heard B-side), the Ghostbusters theme, The Addams Family theme song, the theme from The Munsters. Are you detecting a theme here? I mean, you could also play 101 variations of "Night on Bald Mountain" and do the Time Warp again and again and again, but that's a good way to kill your Halloween party really fast. Don't get me wrong—I love all those novelty songs that comprise the hit parade from Hell, but a little variety in one's personal musical catalog is a good thing.
That said, if you do some digging in the Folkways crypt, there are tunes here and there that provide some wonderfully apropos sounds for the season. Here are a few selections that will give your ghoulish gathering a Smithsonian twist.
Witches and War-Whoops: Early New England Ballads. This one made the list for several reasons. The cover is bright orange and features a perfectly morbid image of pour souls hanging on the gallows. There's also the fact that the bulk of this album is a collection of ballads that recount Salem at the time of the infamous witch trials. So with songs like "Death of Goody Nurse," "The Gloucester Witch," and "Bloody Brook," this is probably the most Halloween-y album in the Folkways pantheon.
Fast Folk Musical Magazine (Vol. 3, No. 1). This folk album features two tracks that may fit your mood this Halloween: "Skeleton" and "Chiller Theater."
La Bamba: Sones Jaroch from Veracruz. This Spanish-language album features the hard driving rhythms of the harp and guitar—not to mention a song called "The Witch."
She Was Poor But She Was Honest: Nice, Naughty and Nourishing Songs of the London Music Hall and Pubs. I'm a something of a fan of musical theater, with Stephen Sondheim held in high regard. As much as I love my 2005 revival cast recording with Patti LuPone and Michael Cerveris (and some of you may be more familiar with the Tim Burton film), I was quite taken by "Sweeney Todd the Barber," an earlier musical treatment of the legend of the demon barber of Fleet Street.
Activity Songs for Kids. Okay, so Halloween is probably first and foremost a holiday for the kiddies, and there's something in Folkways' black bag for them too.
Audio Courtesy of Smithsonian Folkways, the nonprofit record label of the national museum. For CDs or digital downloads please visit folkways.si.edu