Call the Queen: It's Teatime at the Freer
Drinking tea is a serious business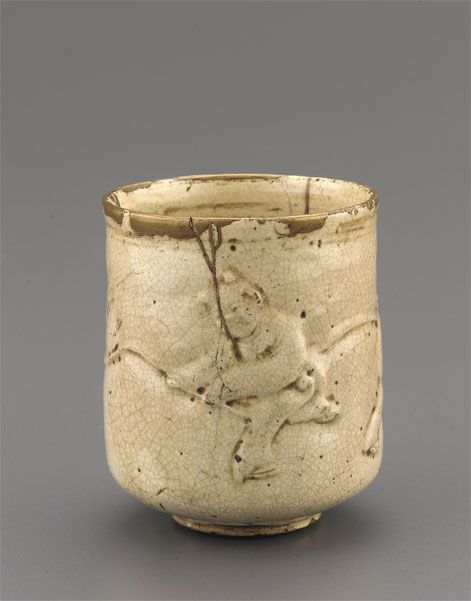 Drinking tea is a serious business.
Observe Brazil, where sitting down with a gourdful of infused yerba mate is a cultural experience.
Or England, where the original Earl Grey (a real man!) alchemized a mix of Indian and Ceylon teas into his uniquely British eponymous brew.
With the age of serious tea drinking dawning in America -- exotic blends from Twinings and Tazo are popping up in every coffee shop -- I wondered how the genuine tea drinkers of the world got their start. For observing tea in a historical context, there are few better places than Japan: land of the rising sun, also, the land of sencha.
The Freer has tucked their exhibit on popular Japanese tea ceramics into a nook off Gallery 6, which means that those who find it might be pleasantly surprised. The feeling is perhaps like finding Narnia at the back of the wardrobe, if Narnia were a country where people had been drinking tea in ritual style for the past five centuries.
Chanoyu, the Japanese tea drinking ritual, evolved among the upper crust of society. Only the richest warriors, nobles and abbots could afford the expensive Chinese and Korean implements. But in the 19th century, a series of local Japanese kilns started manufacturing cups and bowls, and in the process, brought tea to the masses.
Yes, bowls. In 1800's Japan, the good stuff was neither shaken nor stirred, but whisked. Powdered green tea was mixed with hot water and drunk from a bowl. Pieces of pickle made for a tasty garnish.
In those cups would be sencha, perhaps the most famous of Japanese green teas. Sencha was brewed from dried leaves in a ceramic pot. People drank sencha and coarser-leaved teas from cylindrical cups that had no handles. Members of a family each had their own teacup, which they used for years.
The exhibit has many of these heirloom cups on display. They're signature items. One has dripping brown glaze scattered over the brim. Another, bumpy and rough, looks like it was outfitted in "snakeskin." Yet another has thick ropes of brown glaze criss-crossing the surface and interior. I wonder if these cups reflect the personalities of their owners, who would have chosen them with an eye toward the coming years.
I have my own personal tea ritual, perhaps more prosaic than the Japanese one. I prefer black tea brewed with passion fruit pieces. It sounds fancy, but it comes from Starbucks. While I drink it, I scroll through the news online and wait for the caffeine to hit me. Then I toss the cup and get on with my day. It's not much, and it's hardly original, but it's my moment to relax. So in a limited sense, I can identify with the Japanese tea drinkers of yore.
What's more difficult to imagine is if future Smithsonian displays will feature used Starbucks cups, possibly as lovingly conserved as these Japanese relics?
Do you have a favorite teacup or a favorite brew? A tea ritual of your own? Tell us about it in the comments area below.
Photo courtesy of the Freer Gallery of Art, Smithsonian Institution: Gift of Charles Lang Freer, F1899.86.