Bust Loose at Chuck Brown Birthday Party at American Art Museum
The museum remembers D.C.'s own "Godfather of Go-Go" with a concert today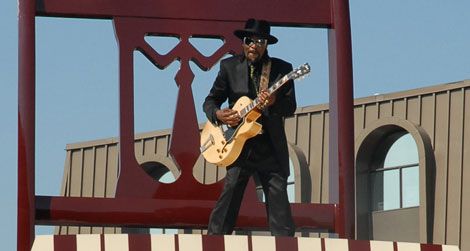 August 22 is Chuck Brown Day in Washington, D.C., and tonight the American Art Museum fetes the late "godfather of go-go" in grand go-go style—with a party in the Kogod Courtyard. Brown, who died in July 2012, is credited with pioneering the genre of go-go music, a blend of funk, soul, jazz and Afro-Caribbean rhythms that emerged in Washington, D.C. in the 1970s. Chuck Brown and the Soul Searchers concerts featured call-and-response and high-energy beats that kept the crowd going nonstop and became the signature sound of go-go.
"Musically really put Washington, D.C. on the map," says Gail Lowe, an historian at the Anacostia Community Museum. The museum has hosted several programs on go-go in recent years, including "Evolution of the Go-Go Beat" in 2011 and "Citified," part of the 2012 Smithsonian Folklife Festival. The Anacostia Community Museum is also a repository of Chuck Brown artifacts, holding photographs, signed concert posters and Brown's famous blonde Gibson guitar.
Off stage, Chuck Brown was just as much of a fixture in the D.C. community. Brown, who was incarcerated in his 20s, inspired youth to pursue their dreams as he did. He mentored and sponsored young musicians throughout his career, often inviting them to open for him. According to Lowe, he was also notable for giving professional opportunities to female musicians, including Meshell Ndegeocello and Sweet Cherie Mitchell. "He always wanted to lift people up," says Lowe.
Brown was something of a musical magpie. Although he made his name in funk, he was raised on Southern gospel, and his voice had a jazz timbre that comes through on albums like "The Other Side," Brown's soulful collaboration with local singer Eva Cassidy. "He brought all the musical genres to the table and said that even in music, we can all live together and make something beautiful out of it," says Lowe. "He may not have been a major superstar in the United States, but practically everybody who knows music would know name. . . . He transcended all sorts of boundaries."
Go-go is the "only musical form indigenous to D.C." as well as the "most geographically compact form of popular music," according to the authors of The Beat! Go-Go Music from Washington, D.C.—but it also caught on internationally. Lowe says that at Brown's concerts in Japan in the 1980s, "all the fans knew every single word in English." Today, go-go is still performed in Washington, D.C.—along with a newer, younger incarnation called "bounce beat"—and its influence can be heard in the hip-hop and R&B music of artists including Nelly, Wale and Chrisette Michele.
Tonight's birthday party in the Kogod Courtyard is free and open to the public. The local go-go band Vybe will perform, joined by one of Chuck Brown's former bandmates.