Bluebrain's Soundtrack for the National Mall
DC electro-pop duo Bluebrain have released a location-aware album app that serves as a soundtrack for the National Mall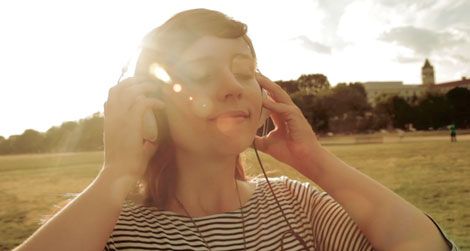 Bluebrain – The National Mall – Location Aware Album from Brandon Bloch on Vimeo.
Brothers Hays and Ryan Holladay, better known as the DC's electro-pop group Bluebrain, have embraced the creative constraints of iPhone GPS technology on their just-released location-aware music project, The National Mall.
This "soundtrack" is actually an app that will only work while strolling around Washington, D.C.'s ample National Mall. Ambient music, percussion and sound effects surge and sigh, synced to the sights, landmarks and monuments at hand, smoothly changing as the listener moves throughout the 264 possible music "zones" across the Mall.
The app is available free at the Apple App Store for iPhone, even though there's nearly three hours of music included in total. "It's the Mall," Ryan Holladay told the The Washington Post. "You don't pay for anything down there."
Android and iPad versions of The National Mall are pending, and the band is working on a new app for Flushing Meadows, in Queens, New York, the location of the 1964 World's Fair. I caught up with Bluebrain's Ryan Holladay for a few questions via email below:
What was the initial inspiration behind The National Mall?
The National Mall is the first in a series of location-aware albums that we are working on. We grew up here in Washington and with this park, so it seemed fitting to start with this one! Not to mention it was much easier to go back and forth everyday from our recording studio to the Mall to test it out than, say, drive to New York City where the next one is planned!
Do you think any areas of the Mall received preferential musical treatment, compositionally?
There were areas we knew would be visited more than others. For instance, the Washington Monument we spent a great deal of time with. That said, we really wanted to make sure that you could explore endlessly and discover new things. So really we took a lot of time to consider every area of the Mall.
Is music continuous during transitions between zones?
It depends. Sometimes the music will dip to near silence, but for the most part, it should be a continuous musical experience where one musical motif seamlessly blends into the next.
Which match-up of music and location are you most proud of and why?
Don't make me choose! I think the Washington Monument really worked out well. We spend a great deal of time on this one, and I'm very proud of it.
So how do you and your brother usually divvy up musical responsibilities?
While we both write and play all the instruments between the two of us, except for violins and cellos and such, Hays is certainly the producer of the two of us. He records other bands in our studio, Iguazu, and has recorded a number of incredible records.
Do you think your app might distance the listener from the surrounding environment and from other people?
Interesting question! Perhaps. I guess it's not exactly conducive to social interaction, but maybe sometimes you need a bit of solitude.