Art Out of a Vending Machine?
I inserted a five dollar bill into the neon-lit cigarette machine and pulled the handle. The machine dispensed a box the size of a deck of cards, and I quickly peeled open the plastic, my friends peering over my shoulder in curiosity. Inside, dangling from a key ring, was a green clay olive stuffed with a pimento-red ribbon.
You see, artist Clark Whittington of cig-capital Winston-Salem, North Carolina, converted the 1950s vending machine into what he calls an Art-o-mat. Instead of cigarettes, consumers get original art—anything from jewelry, paintings, sculptures to, as this particular machine touted, lavender-scented wee monsters, miniature robots and 3D photocards and glasses.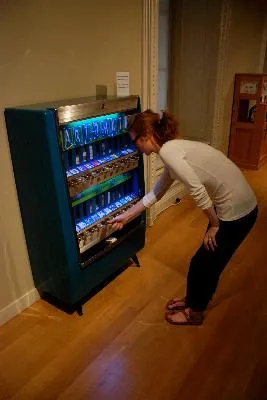 Whittington made his first Art-o-mat in 1997 and included it in a solo art show at Penny Universitie (now Mary's Of Course Cafe) in Winston-Salem. At that time, the machine sold his black and white photographs for $1 each. After the show, the cafe's owner requested that the machine stay, and it was stocked with the work of local artists. Now, there are about 90 Art-o-mat machines at art museums, universities, libraries, restaurants, bookstores, coffee houses, hotels, even Whole Foods grocery stores, across the country—the idea being, as the Art-o-mat Web site explains, "to encourage art consumption by combining the worlds of art and commerce in an innovative form."
On July 23, the Smithsonian had its very own Art-o-mat installed in the American Art Museum's Luce Foundation Center. "I just love the idea of the Art-o-mat as a really neat way to start your collection of art. Maybe we'll be creating some future collectors," says Georgina Goodlander, interpretive programs manager of the experimental Luce Foundation Center. The custom-built machine holds 176 total pieces by 22 artists. "One of the artists sold out within 20 minutes of it being switched on," adds Goodlander. Already, the museum has had to place two orders with Artists in Cellophane, the sponsoring organization behind Art-o-mat, for more artwork.
The label for the pack I selected identified it as an earthenware keychain made by Lincoln, Nebraska-based artist Kelly Rush. I chose it because of my husband's Nebraska connections. (He and a friend, both of whom were with me, hail from Nebraska.) I was happy with my handcrafted trinket. The olive reminded me of my own Italian heritage. With the keychain came the artist's business card, and I felt compelled to contact her, if only to ask Why an olive?

"It's an image that is really identifiable," says ceramic artist Kelly Rush. "It's simple and fun." Since 2007, she has submitted 450 olive keychains to Art-o-mat, and she is getting ready to ship 100 more. Pieces of art accepted by Art-o-mat go wherever there's an empty machine. (Most machines sell the works for $5, with $2.50 going to the artist, $1.50 to the venue and $1 to Art-o-mat.) Rush has found it interesting to see where her olives end up. "I know that I've been in Idaho, the Whitney Museum of American Art in New York City, now the Smithsonian in D.C., California, Texas, all the way down to Key West," she says. Rush has connected with a community of Art-o-mat artists on Facebook and frequently visits her local machine in Lincoln to support other artists.
"It's addicting," she admits.
Addicting, in a good way. In the first 12 days of the Art-o-mat being at the American Art Museum, visitors collectively averaged 16 packs a day.