An Explosion of Color
Artist Morris Louis' (1912-1962) innovations inspired a generation of artists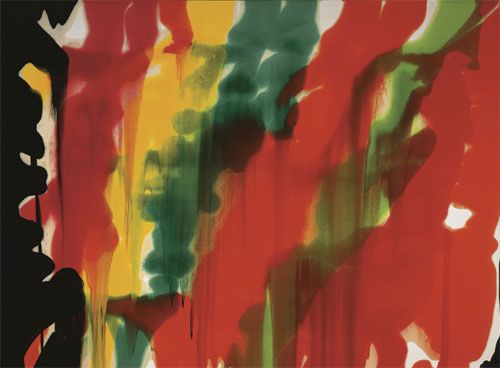 Artist Morris Louis (1912-1962) produced 600 paintings in just eight years before succumbing to lung cancer at age 49. His method--to use acrylic paints to stain a canvas that hadn't been primed so that the color seeped into the material--was an innovation that inspired a generation of artists. Tomorrow, a retrospective that includes 28 of his major works goes on view at the Hirshhorn Museum and Sculpture Garden.
In a gallery this morning, members of the press gathered before his 8 foot by 11 foot Point of Tranquility (1959-60) and the equally large Where (1960). Adjacent was Para III (1959), which was recently purchased by Atlanta's High Museum of Art, where the show originated. On the opposite wall was the 8.5 foot by nearly 12 foot Number 99 (1959-1960). The four huge paintings popped with a wonderful, vibrant energy against the museum's stark white walls.
"This room is an explosion of color," says Smithsonian curator Valerie Fletcher, "when you put together they talk to each other."
There's certainly an expressive dialogue going on in that gallery, and the observer comes away a richer soul for having been witness to it.
(Courtesy of the Hirshhorn: Para III, 1959, Acrylic resin on canvas, High Museum of Art, Atlanta, Gift of Marcella Louis Brenner.)