American Indian Museum in Macy's Thanksgiving Parade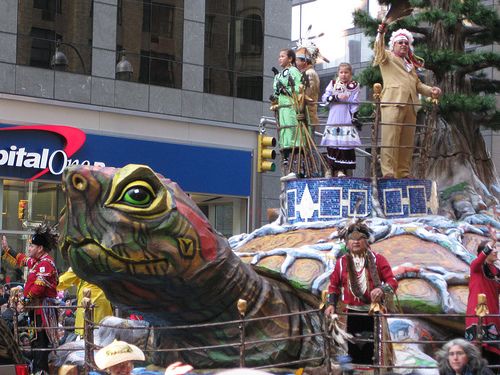 As you're baking pies and basting the bird this Thanksgiving, make sure to tune into the Macy's Thanksgiving Day Parade. The National Museum of the American Indian will be sponsoring a float this year!
Called "The Spirit of Thanksgiving," the float is inspired by the sculpture Allies in War, Partners in Peace, by Utah-based sculptor Edward Hlavka. The nearly 20-foot bronze sculpture, on display on the museum's fourth floor, is a depiction of the friendship between the Oneida Nation and the United States during the Revolutionary War. The piece features Polly Cooper, an Oneida Indian who helped soldiers and taught them how to prepare corn; Shenandoah, who worked and served with the colonists during the war; and George Washington—all under the symbolic tree of peace. To see its finer details, watch this slideshow.
The Oneida Nation of New York gifted the sculpture to the museum to commemorate its opening in 2004. And, in a way, they have gifted the float as well, having lent it to the museum to use in the parade this year.
So keep your eyes peeled!
While you're at it, visit ATM's Turkey Day offering, Hunting for turkeys, in the Smithsonian collections.