What Killed 13 Bald Eagles in Maryland?
Officials want information on the strange die-off of a clutch of majestic birds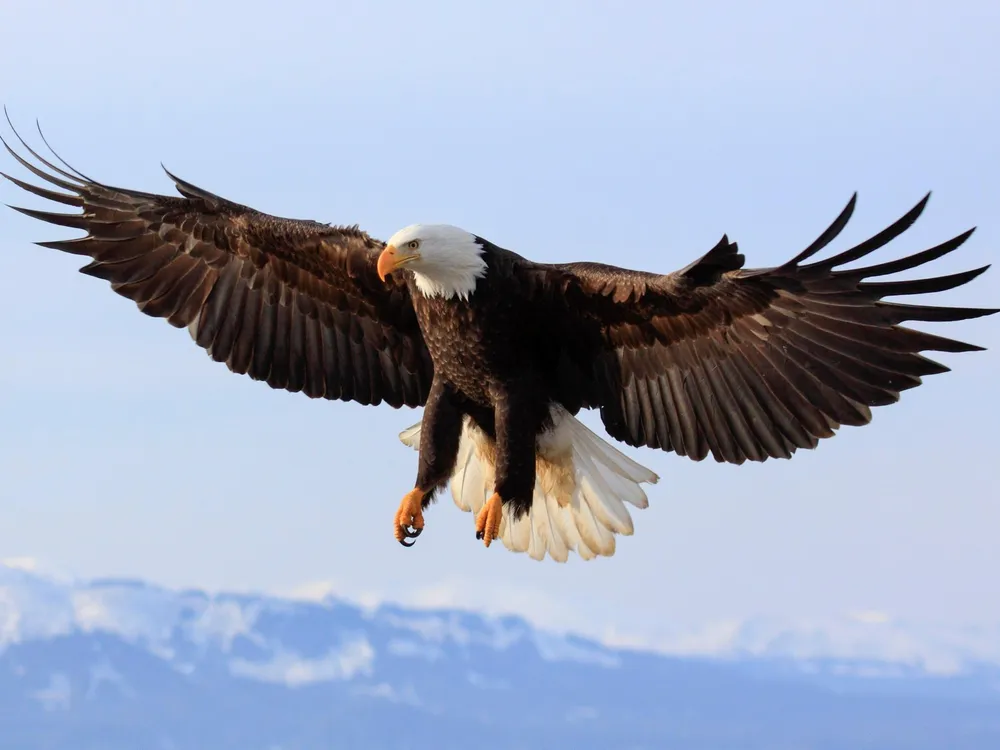 Bald eagles are soaring symbols of national pride and sacred meaning—so prized that killing them or even taking any portion of their body, nest or eggs is illegal under federal law. Now, report Dana Hedgpeth and Julie Zauzmer for The Washington Post, the death of 13 bald eagles near a Maryland farm has sparked a mystery—and a reward for anyone who can provide information on their demise.
Hedgpeth and Zauzmer write that the eagles were discovered by a hunter in a field in Caroline County near the Eastern Shore of Maryland. Their bodies were intact, but they were all dead. It's the biggest die-off of bald eagles in the state in 30 years, they write, and one that's sparked quite the mystery.
Officials believe that the eagles may have been poisoned. George Lettis of WBAL-TV reports that the eagles had no sign of external trauma, but could have eaten a poisoned mammal or been exposed to a pesticide. However, the land owner insists there was nothing in his field that would poison the birds. The eagles are being taken to the U.S. Fish and Wildlife Service's Oregon lab for investigation.
In a release, the U.S. Fish and Wildlife Service writes that information leading to a conviction will be rewarded with $2,500 from the Service and additional rewards of up to $5,000 from the Humane Society of the United States and the Human Society Wildlife Land Trust and $2,500 from the Phoenix Wildlife Center, Inc., which rehabilitates raptors in the area.
People with information on the eagles' deaths may walk away with a large reward, but if a person is responsible for tampering with the bird, they will face an even larger fine. Both the Bald and Golden Eagle Protection Act and Migratory Bird Treaty Acts have maximum fines of $250,000 and up to two years of imprisonment for a felony conviction of tampering with a bird. In addition, people who violate state, U.S. and tribal laws with by transporting or selling the birds can face hefty fines and imprisonment under the Lacey Act.
Contrary to popular belief, bald eagles are not endangered species. They were removed from the list in 2007 after a significant population pickup due to restoration efforts. But that doesn't mean they're invulnerable to things like poison or predators. If you have information on the Maryland eagles, call Special Agent John LaCorte with the U.S. Fish and Wildlife Service, Office of Law Enforcement in Cambridge, Maryland, at 410-228-2476, or the Maryland Natural Resources Police Hotline at 800-628-9944.