This Flying, Chemical-Detecting Microchip Is Smaller Than a Grain of Sand
Inspired by helicopter seeds, the device could soon be used to monitor the environment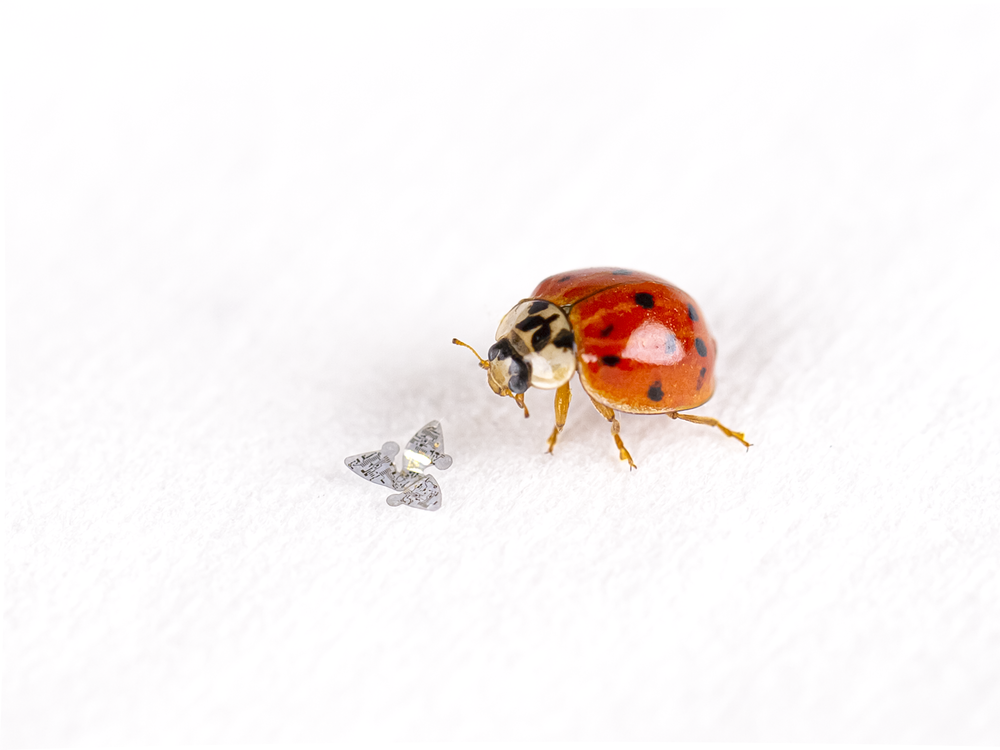 When a breeze whips through a bigleaf maple, paper-thin, wing-like seeds called samaras, whirl into action and gently spin towards the ground. Also known as helicopter seeds, the fruit's tissue allows the wind to guide it further away from the tree. Inspired by the fluttering seeds, researchers designed a tiny, winged microchip—no larger than a grain of sand—that is powerful enough to monitor environmental contamination, biohazards, and airborne disease, reports Scientific American's Nikk Ogasa. Details of the sensor's sleek design were described this month in the research journal Nature.  
 "Over the course of billions of years, nature has designed seeds with very sophisticated aerodynamics. We borrowed those design concepts, adapted them, and applied them to electronic circuit platforms," says study author John A. Rogers, a nanomaterials expert at Northwestern University.
Dubbed the microflier by the team of researchers at Northwestern, the microchip has no motor to propel it in the air but instead was designed to catch the wind. To perfect the microchip's gliding capabilities and shape, scientists took inspiration from the forms of airborne seeds from bigleaf maples, box elders, and woody vines from the genus Tristellateia. They then used computer simulations and models to understand how air flows around other similar shapes with different geometries, per Scientific American.
The research team refined various designs from the aerodynamic simulations until the microfliers drifted slowly and more steadily than nature's samara seeds. The chip flies smooth and steady because its blades have spinning motions that stabilize it as it descends, reports Brooks Hays for United Press International. According to a statement, the slower falling rate allows the microchip to keep flying for longer, which gives it more time to collect data and monitor air pollutants and airborne diseases.
To fully optimize the microflier's flight, researchers took inspiration from children's pop-up books to create the three-dimensional wings. Usually, electronic microchips are flat, two-dimensional objects, but something flat won't take flight. To make the 3-D shape, Rogers and his team built a stretched rubber base that the microchip rests on. The wings pop into flight mode when the rubber base is relaxed, reports Rahul Rao for Popular Science.
The chip gathers data with minuscule sensors across its surface that can sense and monitor pH levels, test for heavy metals or chemical spills, and track air pollution, reports Emily Conover for Science News. An antenna on the microflier then sends all the collected data to a computer or phone, per Popular Science.
Rogers and his team are planning to test out the electronic chips soon by dropping thousands of the miniature chips in a field. The microfliers will change color depending on the amount of lead, cadmium, or mercury present in the field where they land, per Scientific American. A drone will then fly over the area and take photos of the microflier's colors, allowing researchers to map out the contaminants. Rogers and his team also designed the microchips to break down over time and dissolve in water to prevent environmental pollution.
"We don't want to be in a position where we have to collect all these devices afterward," Rogers tells Scientific American.