These Mud Figures Fight Injustice
"Figures" challenges British austerity policies—and an artist's physical endurance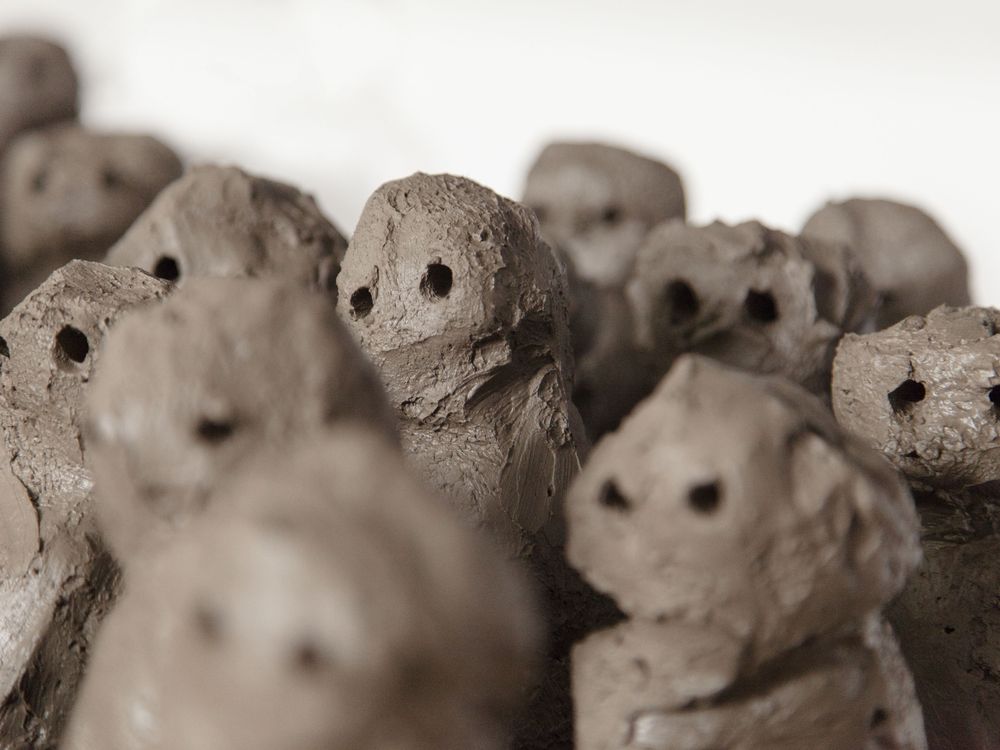 They came from the Thames: little mud figures, 650 of them to be exact. They're Figures, a "mass-sculptural performance" and test of endurance for Liz Crow, an artist and activist who hopes the sculpture will highlight the injustices of British austerity measures ahead of national elections.
Liz Crow, who is wheelchair-bound, is known for dramatic performance art, like living in a museum bed or dressing as a Nazi to shed light on disability issues in the U.K. Her latest piece is part performance, part sculptural achievement.
Using raw river mud from the Thames, Crow sculpted 650 unique figures, each of which represent "an individual at the sharp end of austerity." She did so on the banks of the Thames, where volunteers carried her on a special sling, leaving at high tide and returning at low tide as she amassed hundreds of figures.
She also constructed figures on London streets to call attention to her cause.
Now that she has completed the figures, Crow will embark on a mobile exhibition that will take her all over England. The figures are being paired with stories of people affected by the U.K.'s austerity measures, which have been called "social engineering on a grand scale." Nationwide budget cuts have been linked to rising food bank use, cuts in housing, social care and mental health services and even lower life expectancy.
In the final phase of Crow's project, she will fire the figures in a huge bonfire on the banks of the Thames in Bristol and grind them into dust. It's a symbolic gesture and one that will tax Crow's own endurance as she creates, follows and destroys the figures.
But Crow welcomes the challenges of such an ambitious project. "The durational aspect…means you can go so much deeper into it and discover things along the way that are bigger than the question you started out with," she told Disability Arts Online. "I am putting myself through this because it really matters."
(h/t Mashable)