The Strongest Hurricane of the Year Is About to Hit Taiwan
The strongest hurricane of the year, Super Typhoon Usagi, is set to hit China over the weekend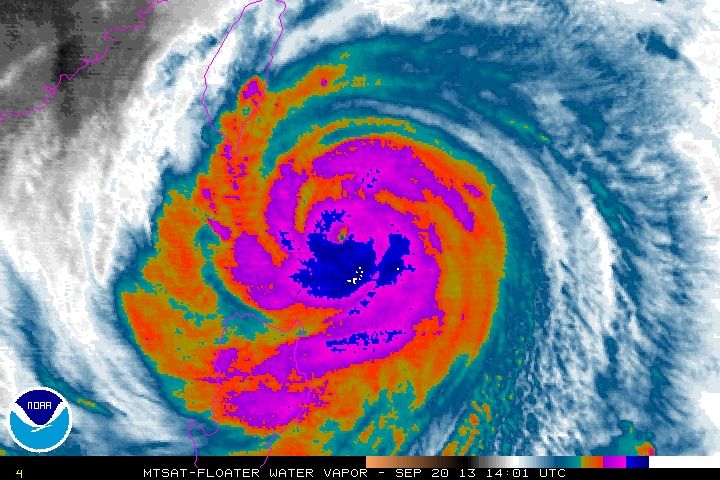 The United States has had a nice year so far as hurricanes are concerned. Despite a forecast calling for a busy season, the Atlantic actually just got its first hurricane last week, a small storm named Hurricane Humberto. But the strongest storm so far this year has formed in the Pacific Ocean: Over this coming weekend Super Typhoon Usagi, a Category 5 hurricane, will hit Taiwan before it's expected to slam into Hong Kong on Sunday.
Usagi, says Quartz, saw a huge burst in strength, growing from a a weak tropical storm into a monster Category 5 hurricane in "less than a day—good enough for one of the fastest intensification rates ever recorded." The Washington Post says that it's too soon to be able to estimate what kind of damage Usagi will cause. It will be the strongest part of the storm that hits Taiwan, though, so between the heavy rain and strong storm surge, the damage could definitely be bad.
There have been destructive storms in this hemisphere, as well; the U.S. has just been lucky enough to avoid them. In Mexico this week, two tropical storms have killed nearly 100 people. Earlier in the week Mexico was pinched by two storms, hurricane Ingrid and tropical storm Manuel, which brought massive damage and flooding. Then, yesterday, says the Guardian, Manuel took another pass through the country.
"So far the worst affected area has been the southern state of Guerrero which was hit by an earlier version of Manuel when it first made landfall on Monday as a tropical storm before dissipating, returning to sea and regaining strength," says the Guardian.
"The full extent of the disaster, however, is only now beginning to emerge as news of death, destruction and dwindling supplies of food in mountain communities takes over from the more visible chaos the storm caused in big cities such as Acapulco."
More from Smithsonian.com:
Hurricanes May Cause Earthquakes
Here's How Hurricane Naming Works
Top Ten Most Damaging U.S. Hurricanes