Thanksgiving Day Shopping Could Overtake Black Friday in Five Years
Whether non-virtual stores will succeed in drawing shoppers away from their turkey dinners and post-stuffing stupor, however, remains to be seen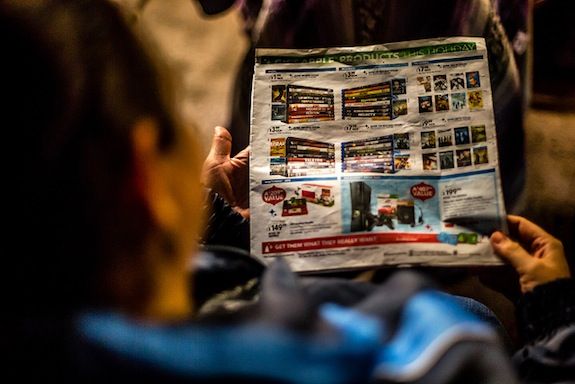 Black Friday, the notoriously insane day of sales and shopping following Thanksgiving, may soon be renamed "Black Thursday." Or maybe "Black Turkey Day." According to a study conducted by Adobe, within five year's time Thanksgiving Day itself could surpass Black Friday in shopping expenditures. Here's ZDNet on why this is happening:
The simple answer is that online retail giants are enabling such behavior with massive sales and limited-time deals that have been creeping up from Cyber Monday to Black Friday and onto Thanksgiving for the past few years now — which can only been aided by the increasing shift in online shopping from desktops to mobile devices.
This year's Black Friday sales are projected to total around $1.6 billion, with Thanksgiving Day sales trailing slightly behind, at $1.1 billion. (December 2, proclaimed "Cyber Monday," however, is supposed to draw a whopping $2.3 billion, however.)
Adobe highlighted that retailers with mobile channels in place will see more than 20 percent of their transactions stemming from smartphones and tablets, an increase of 47 percent year-over-year.
However, some companies are holding strong to the in-person shopping sprees, but are moving those sales to Thanksgiving Day. Kmart, for example, just announced plans to start its epic price-slashing this year at 6 a.m. on Thanksgiving Dy and continue those sales through 10 p.m. on Black Friday, adding up to a 41-hour, all-day-and-all-night holiday shopping bonanza, the Los Angeles Times reports. Somehow, you're supposed to shop and make a giant feast at the same time. Or get it together to go to the store in post-stuffing stupor.
More from Smithsonian.com:
Your Black Friday Buy: KOTA the Triceratops 
Shopping Maul