Smithsonian and Library of Congress Purchase Rare 1860s Photo of Harriet Tubman
Part of an album of 44 photos of prominent abolitionists, the unique photo was recently acquired at auction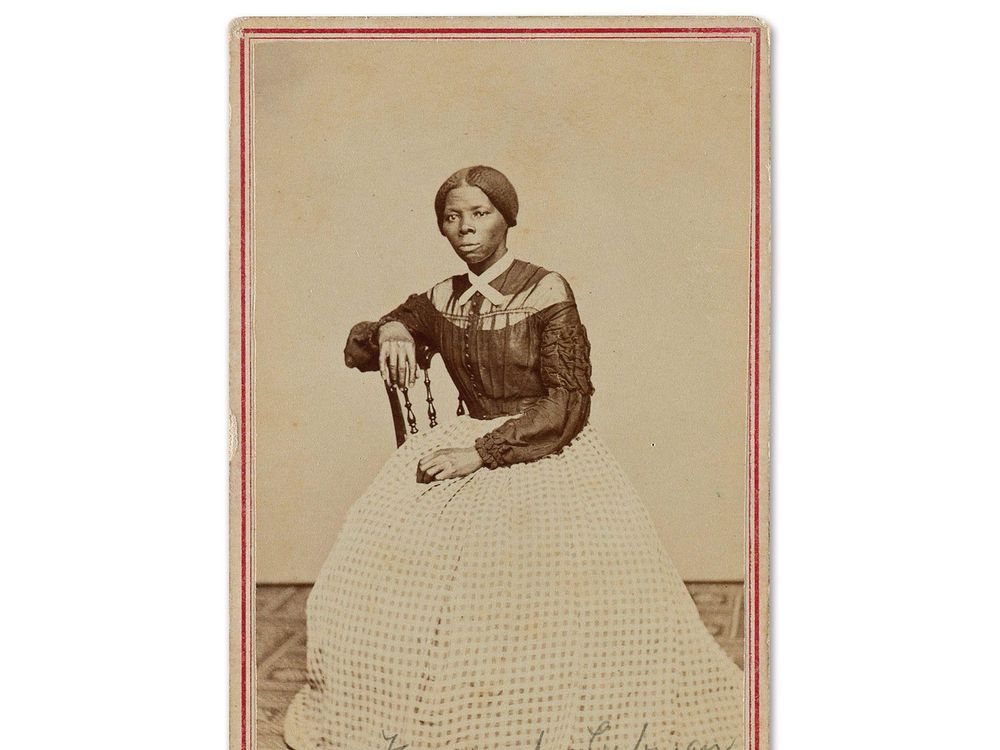 Late last week the Smithsonian's National Museum of African American History and Culture along with the Library of Congress purchased an album of 44 historical photographs of abolitionists and early black leaders, including the earliest-known photograph of Underground Railroad conductor Harriet Tubman.
Michael Ruane at The Washington Post reports that the two institutions pooled resources to buy the photo album, which was being sold by Swann Auction Galleries. Though the auction price of the album was originally estimated at $30,000, the photos sold for $130,000, plus a $31,000 auctioneer's fee.
"The institutions have agreed to joint ownership and will digitize the photographs as soon as possible," Gayle Osterberg, a Library of Congress spokeswoman, tells Ruane in an email. "The intention is to make them as widely available as possible through online images everyone can use."
Ruane reports that the photo album was once owned by Emily Howland, an abolitionist who helped establish 50 schools for emancipated black students and a close friend of Tubman after she settled in Auburn, New York. The album also includes images of abolitionist Charles Sumner, Charles Dickens and the only known image of John Willis Menard, the first black man elected to Congress. In 1868, Menard won a special election in New Orleans, but the House of Representatives refused to seat him. A motion introduced by Congressman James A. Garfield stated it was "too early" to admit a black person to the U.S. Congress, and called for the seat to be declared vacant instead.
Ruane reports that the album was bought by a collector at a marshals sale in New York about 30 years ago. It wasn't until the buyer brought it to the Swann Galleries for appraisal that a specialist discovered the Tubman image. According to previous reporting by Smithsonian.com, it's believed that the image is likely from the late 1860s when Tubman would have been in her 40s and presents a stark contrast to other existing images of Tubman which come from later in her life. "What's remarkable about this photograph is that she's so proud and dignified and beautiful. She looks so young," Tubman biographer Kate Clifford Larson tells David Wilcox at The Citizen. "This is the vibrant young Tubman just coming off her work during the Civil War. She's building her life with her family in Auburn. It just surprised me, and I think it's going to surprise a lot of people."
During her work on the Underground Railroad, Tubman helped some 300 slaves escape to freedom and later worked as a cook, nurse and spymaster for the Union Army during the Civil War. In her later years, she worked as an advocate for women's suffrage and established a Home for the Aged.
The purchase comes at a time when Tubman's legacy is getting due recognition. She's scheduled to appear on the $20 bill; the Interior Department recently established the Harriet Tubman National Historical Park in Auburn; the Underground Railroad National Historic Park in Cambridge, Maryland, also recently opened; a new biopic of Tubman was just announced; and she is the star of season two of WGN's drama Underground. However, compared to other abolitionists, there are relatively few documents from Tubman's life and only a handful of photos. That's because, unlike more prominent leaders, Tubman tended to work in the trenches rather than giving speeches or writing books.
The new photo is the closest link we have to knowing Tubman as she was during the years she was working to rescue slaves and aid the Union Army. "It is a distinct honor to have these photographs that tell an important part of America's history," Lonnie Bunch, founding director of the NMAAHC says in the press release. "We are pleased and humbled to work with the Library of Congress to ensure that this rare and significant collection will be preserved and made accessible to the American public."