The Sea Turtle That Ate 915 Coins Has Died
Her death comes two weeks after vets tried to save her life with a seven-hour surgery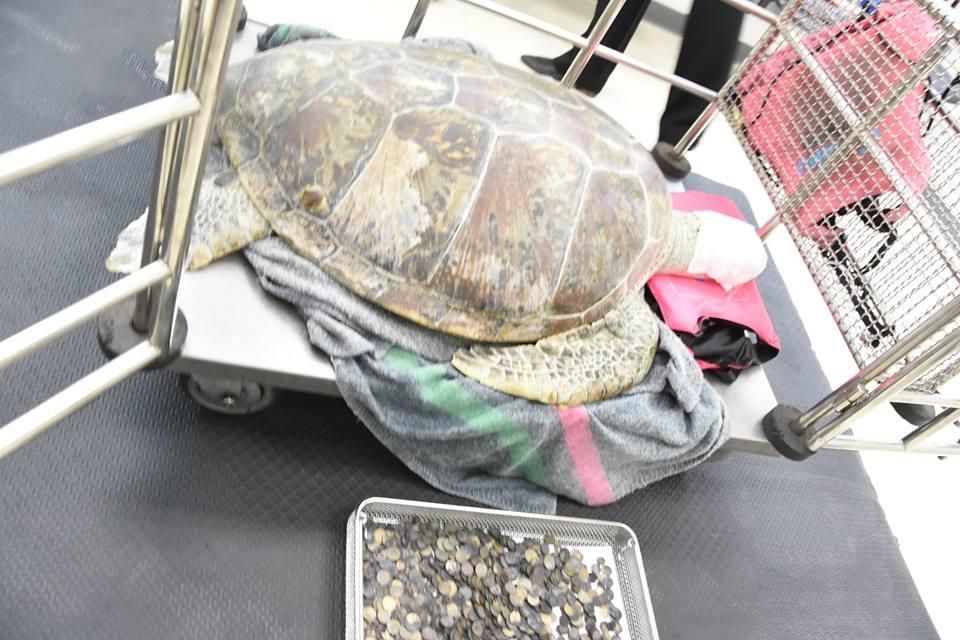 Earlier this month, a sea turtle in Thailand rose to internet fame after veterinarians extracted 11 pounds of coins from her stomach. Playfully named Omsin, which means "piggy bank" in Thai, the beloved creature's post-surgery chances seemed positive. But medical interventions were not able to save the turtle. Omsin died on Tuesday morning, Judith Vonberg reports for CNN, she was 25.
Omsin had lived in a turtle pond in the town of Sri Racha, according to the Associated Press. People tossed coins into her pond as a symbol of good luck, and the seven-hour surgery revealed that Omsin had been munching on the shiny objects—915 of them, to be precise. The coins had collected in a heavy ball that cracked the turtle's ventral shell, leading to an acute infection.
Nantarika Chansue, head of the aquatic animal research center at Chulalongkorn University, wrote on Facebook that Omsin had "fully recovered from the surgery on March 6," according to Vonberg. On Sunday morning, however, the turtle began breathing too slowly and was rushed into intensive care. She had an intestinal infection, and though veterinarians tried to save her with a second surgery, she fell into a coma and died.
"We are all very sad," Chansue told Vonberg. "We tried our best, but due to her physical weakness and multiple complications including toxicity in her blood system, she couldn't make it."
According to Reuters, the removal of the coins left a gap in Omsin's stomach that caused her intestine to become "strangled," which in turn blocked blood flow. Her condition became fatal when an intestinal infection caused a blood infection.
Omsin's plight captured the hearts of many people in Thailand, where turtles are viewed as a symbol of longevity. Vets who tried to save Omsin had encouraged well-wishers to pray for her recovery.
Now, as Reuters reports, these vets are planning to perform an autopsy on the turtle so they can better understand how to treat the species in the future. But there is a simple way to save other turtles from Omsin's fate: Think twice before tossing coins into turtle ponds.