Richard Wilbur, Esteemed Poet and Two-Time Pulitzer Winner, Dies at 96
He championed a formal style in an era dominated by experimental, confessional poetry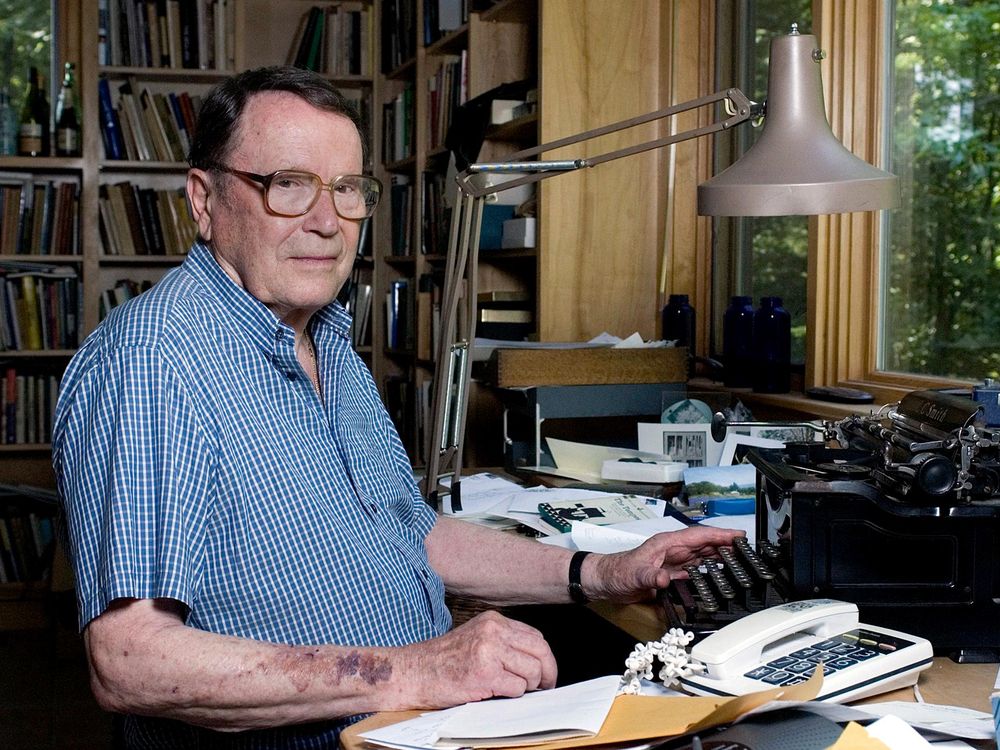 Richard Wilbur, an esteemed poet who divided critics but won two Pulitzer prizes for his elegant, classically inspired verse, has died at the age of 96.
The poet's death was confirmed by his son, Chris Wilbur, who told Harrison Smith of the Washington Post that the cause of his death was not immediately known.
Born in New York in 1921, Wilbur grew up in an environment steeped in arts and culture. His father, Lawrence Lazear Wilbur, was a portrait artist. His mother, Helen Purdy, came from a family of newspaper journalists. "At home, immersion in books and the arts was a fact of everyday life," writes Daniel Lewis of the New York Times.
Wilbur graduated from Amherst College in 1942 and went on to serve as an infantryman during World War II. For three years, he fought on the frontlines of Italy, France and Africa—an experience that he said prompted him to "versify in earnest," according to the Poetry Foundation.
As Smith of the Post reports, he later told the biographical dictionary Twentieth-Century Authors that "[o]ne does not use poetry for its major purposes, as a means to organize oneself and the world, until one's world somehow gets out of hand."
In 1947, he published his first collection of poetry, The Beautiful Changes and Other Poems. A meditation on war, literary critic Adam Kirsch later commented in the New Yorker that Wilbur presents his experiences overseas "in a style so elaborately formal that the most awful subjects are sublimated into irony, or even black comedy."
That ordered, carefully crafted verse was met with mixed reception, however. By the 1950s, critical preference had shifted to the electric and deeply personal style embodied by poets like Allen Ginsberg and Sylvia Plath. Randall Jarrell, the American poet and literary critic, infamously complained that Wilbur "never goes too far, but he never goes far enough," according to the Poetry Foundation.
In spite of the criticism, Wilbur did not stray from his vision. In 1956, he published the anthology Things of This World, which established him as a force among 20th century poets. The collection included one of Wilbur's best-known poems, "A Baroque Wall Fountain in the Villa Sciarra," which embodied the poet's meticulous adherence to classical meter and his fascination with the natural world. It reads, in part: 
Under the bronze crown 

Too big for the head of the stone cherub whose feet   

      A serpent has begun to eat, 

Sweet water brims a cockle and braids down 

            Past spattered mosses, breaks 

On the tipped edge of a second shell, and fills   

      The massive third below. It spills 

In threads then from the scalloped rim, and makes 

            A scrim or summery tent 

For a faun-ménage and their familiar goose.   

      Happy in all that ragged, loose 

Collapse of water, its effortless descent 

            And flatteries of spray, 

The stocky god upholds the shell with ease, 

      Watching, about his shaggy knees, 

The goatish innocence of his babes at play; 
Things of This World won the Pulitzer Prize in 1957. Even Jarrell conceded in Fifty Years of American Poetry that "A Baroque Wall Fountain" was "one of the most marvelously beautiful, one of the most nearly perfect poems any American has written." He adds, "Wilbur's lyric calling-to-life of the things of this world – the things, rather than the processes or people – specializes in both true and false happy endings, not by choice but by necessity; he obsessively sees, and shows, the bright underside of every dark thing."
During his long career, Wilbur published nine volumes of poetry. In 1987, he was named the second-ever U.S. poet laureate—succeeding Robert Penn Warren—and he won a second Pulitzer in 1989 for his anthology New and Collected Poems. 
Wilbur was also a professor—he taught for more than 40 years at Harvard, Wellsley, Wesleyan, Smith and Amherst—and a skilled translator. He garnered high praise for making the works of foreign authors such as French playwrights Molière and Jean Racine, and poets Brodsky and Baudelaire available for English readers. According to Lewis, former Times theater critic Frank Rich wrote in 1982 that Wilbur's Molière translations were a "remarkably selfless exercise."
"Though Mr. Wilbur's own poetic gifts are abundantly apparent in these translations, he scrupulously uses his talent to serve rather than to upstage or update the texts at hand," he continued.
Though Wilbur's later work featured more personal reflections than his early poems, he often adhered to what David Orr of the Times once called a "model of resistance to … conspicuous self-­dramatization." His rhythms were controlled, his verse preoccupied with grand tropes of nature and love, rather with confessional intimacies.  His view of the world was persistently optimistic.
"I feel that the universe is full of glorious energy," he explained during a 1977 interview with Peter A. Stitt in the Paris Review, "that the energy tends to take pattern and shape, and that the ultimate character of things is comely and good."