Peep the Stunning Winners of the Audubon Society's Photo Contest
You'll want to tweet these.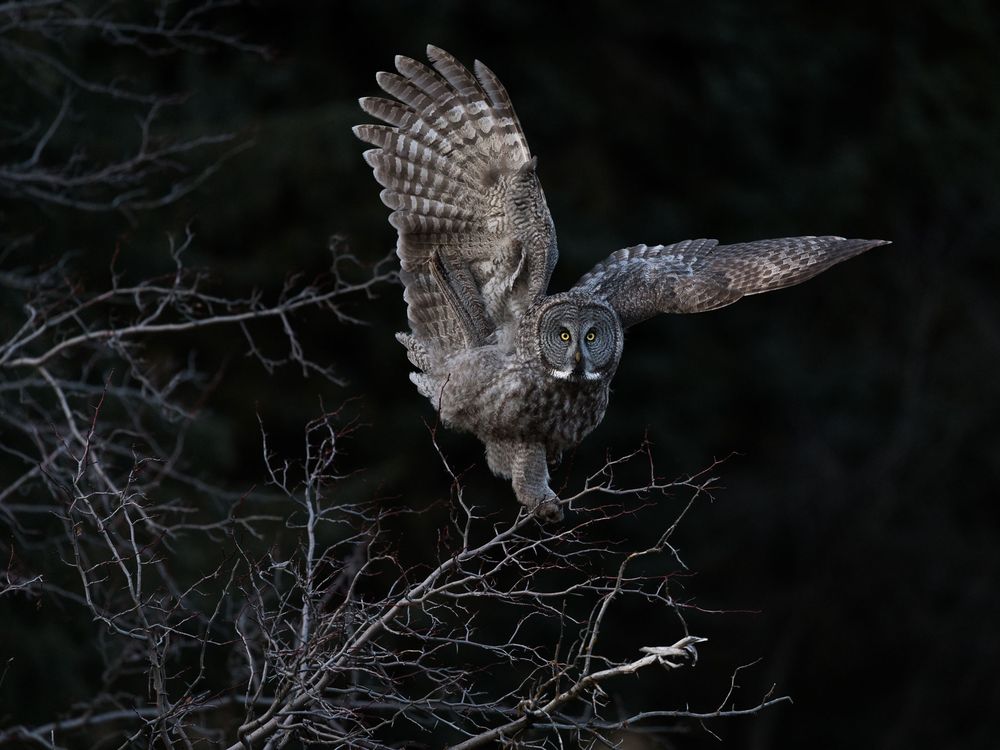 The great gray owl stares into the camera with its brilliant yellow eyes. The bird balances skillfully on a delicate branch, its wings splayed out against the backdrop of a dark night's sky, its majestic power frozen for a moment in time by wildlife photographer Steve Mattheis. This stunning image took home the grand prize in the ninth annual Audubon Photography Awards, a competition that celebrates the diversity and beauty of the world's birds. More than 8,000 photos were submitted to this year's contest, and judges recently announced the winning images.
The photos were taken by both amateur and professional photographers, who braved frigid weather, trekked through dense forests and walked across wetlands to capture the perfect shots of our fine feathered friends. Scott Suriano, who scored an honorable mention in the amateur category, waded into a freezing Baltimore pond so he could photograph a wood duck with a blanket of snow covering its back. Mattheis, the grand prize winner, chased a great gray owl for 80 minutes as it flew from tree to tree in Teton County, Wyoming.
Some of the winning photos came about by happy accident. Diana Rebman, winner of the amateur category, had been hoping to photograph whooper swans on a cold day in Japan's Akan-Mashu National Park, but the winds were very strong and the swans looked dirty. As she headed back to her van, she caught sight of long-tailed tits nibbling on an icicle. Rebman snapped a photo of a fluffy bird in mid-air, soaring towards its frosty treat.
The contest is judged blind, and this year, something unusual happened: The youth category was swept by a single photographer, 17-year-old Liron Gertsman from Vancouver, British Columbia. "At first I was like, 'This must be some kind of mistake,'" Gertsman told Rhianna Schmunk of CBC News. "Then I realized and it was like, 'Wow.' That is so unexpected and such an incredible honour."
Gertsman was declared the winner of the youth category for an image taken during a trip to Ecuador's Yasuní National Park. For three days, Gertsman waited near a spot that is known to be frequented by cobalt-winged parakeets, which munch on clay to counteract their acidic diet of berries and fruit. When hundreds of birds flew down from the tree canopy to the mineral-rich forest floor, Gertsman was ready. His winning photo bursts with activity: Birds pack together in dense clusters on the ground and soar through the air, the gorgeous blue of their outstretched wings lighting up the image.
Gertsman also earned honorable mentions for two other submissions: a close-up of a bald eagle's powerful orange talons and back-lit shot of a fawn-breasted brilliant hummingbird.
This year's contest coincides with the 100th anniversary of the Migratory Bird Treaty Act, which was signed into law in 1918 to protected birds that were being hunted to near-extinction. Today, the law seeks to protect birds from recent threats—like power lines, wind turbines and pesticides—by penalizing companies whose otherwise legal activities lead to bird deaths. "This standard is meant to encourage companies to find ways to minimize threats to the 1,000-plus bird species protected by the law, and the relatively few enforcement actions have been limited to the most egregious violations," David J. Hayes and Lynn Scarlett, former deputy secretaries at the United States Department of Interior, write in a New York Times op-ed.
But even this relatively minor protection could soon disappear. In an effort to lift burdens on the energy industry, the current administration has put forth an interpretation of the law that would not hold companies accountable for engaging in activities that inadvertently kill birds. "The implications of the Interior Department's new position on bird killings are troubling, because building owners, oil and wind energy companies and others will no longer have any legal incentive to reduce or eliminate bird deaths caused by their operations," Hayes and Scarlett write.
Some of the birds featured in the Audubon Photography Awards' winning images are protected by the Migratory Bird Act—like the black-necked stilts that Gary R. Zahm photographed in California's Merced National Wildlife Refuge. The birds can be seen huddling together in a seasonal wetland, their black and white plumage reflected in the rippling waters beneath them.
"I felt peaceful capturing the image," Zahm writes on the Audubon website, "knowing these birds have a pristine home in our invaluable national wildlife refuge system."
View the winning images below.