Pablo Neruda Did Not Die of Cancer, Raising the Possibility He Was Murdered
The Nobel-prize winning Chilean poet died 2 weeks after the brutal Pinochet regime took power in his country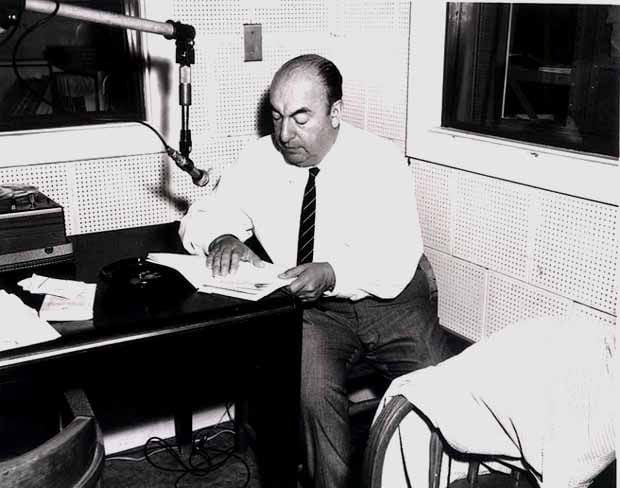 At a news conference last Friday, an 16-member international panel of forensic experts said they were "100 percent convinced" that Nobel-prize winning Chilean poet Pablo Neruda did not die of cancer in September 1973. While that may not seem significant—he was 69 and suffered from prostate cancer at the time of his death—it opens up the possibility that the poet was assassinated, reports Colin Dwyer at NPR, a claim made by several people over the years.
Besides being the most famous Spanish-language poet of his generation, he was also a politician with a communist sympathies and a supporter of Chile's Marxist government of President Salvador Allende, Pascale Bonnefoy at The New York Times explains. In September 1973, General Augusto Pinochet led a coup against Allende, who chose to kill himself rather than surrender. Pinochet assumed control of Chile, the dictator presiding over a government that disappeared political dissenters and engaged in numerous human rights abuses.
After Allende's death, Neruda planned to go into exile where he would have likely been a bitter critic of the new regime. But, according to the Associated Press, the day before he planned to leave, Neruda was taken by ambulance to the Santa Maria clinic in Santiago where he soon died. The official cause of death was cancer cachexia,  involuntary weight and muscle loss that is seen in cancer patients. But there was enough doubt that in 2013 a judge ordered his body exhumed and samples were collected. Initial tests indicated he was not poisoned. But these new tests show he didn't die of cancer either.
"That [cause of death] cannot be correct," Niels Morling, of University of Copenhagen's department of forensic medicine and a member of the panel, tells Bonnefoy of the Times. "There was no indication of cachexia. He was an obese man at the time of death. All other circumstances in his last phase of life pointed to some kind of infection."
The researchers did find potentially deadly bacteria in a sample of one of Neruda's molars, though they do not know if crept in after death. "We can't confirm how the bacteria got there,"  Debi Poinar, a research assistant in the anthropology department at McMaster University in Ontario, tells Bonnefoy. "We have to be very careful because there are a lot of bacteria that have their origin in the soil and some of those bacteria are the most pathogenic. We have some indications that it's an old bacteria, not a modern or laboratory contaminant."
Dwyer reports that in 2011, Neruda's personal driver Manuel Araya told a Mexican publication that while Neruda did have prostate cancer, he did not appear close to death. He claims that the poet revealed to him soon before he died that someone at the clinic had injected him in the stomach while he slept. 
In 2015, the AP reports that Chile's interior ministry released a statement addressing the situation, writing, based on the evidence it is "clearly possible and highly probable" a third party played a role in the poet's death.
Bonnefoy reports that the research panel will now continue their analysis of the samples to try and determine the origin of the bacteria found in Neruda's remains.