Occupy Wall Street Has Spawned a Financial Services Group
People affiliated with the Occupy Wall Street movement want to open an Occupy-branded bank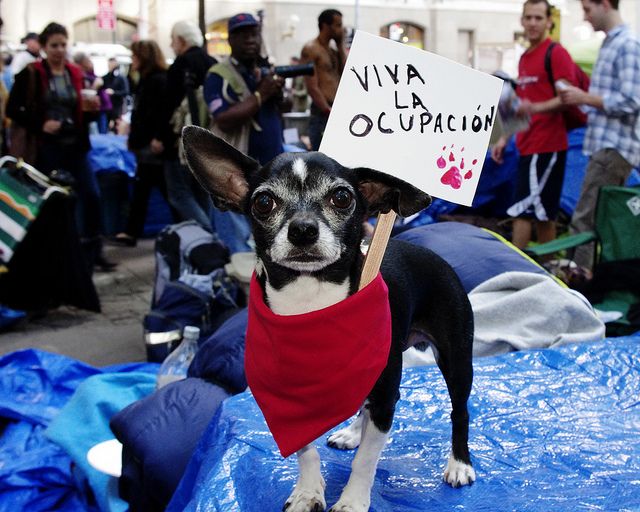 Two years ago the Occupy Wall Street movement took over Zuccotti Park in New York City, a mass protest that began as a criticism of the U.S. financial system, the banks, the traders, the market, and the handling of the recession. It was the battle against "the 1%." October 31st, 2011, was Occupy the Bank Day, a call for supporters of the movement to close their accounts and stash their money…somewhere else. But where? Now, two years later, there's a homegrown solution: an Occupy-affiliated group wants to start a bank (if they can just raise a measly $900,000 in start-up funding).
The idea, led by a group that includes a Cornell law professor, a former director of Deutsche Bank and a former British diplomat, is meant to serve people who do not have bank accounts, but it also aims to make Occupy a recognized financial services brand.

On Sept. 17, the day of the anniversary, the group, known as the Occupy Money Cooperative, began raising money to pay for initial operating expenses. The group's Web site invites visitors to "join the revolution," suggesting that using the card might represent a "protest with every purchase."… ts founders have described as "low-cost, transparent, high-quality financial services to the 99 percent."
The bank is only loosely affiliated with the Occupy movement, which has no real leader or organizational structure.
The initial plan, says the Times, is to offer a prepaid debit card. But, soon, if all goes to plan, you might be able to get an Occupy loan, or an Occupy Visa card. No word yet if you'll be able to get an Occupy sub-prime mortgage.
More from Smithsonian.com:
Anger and Anarchy on Wall Street