North Carolina Votes to Keep Three Confederate Monuments at the State Capitol
The state's historical commission said it was bound by a 2015 law that restricts the relocation of statues on public property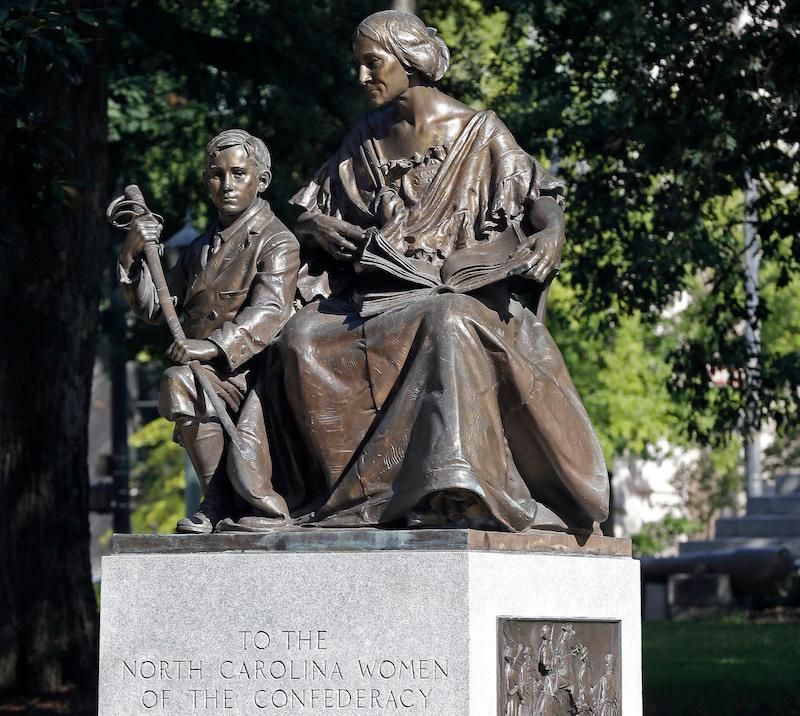 Days after a group of protestors tore down a Confederate statue at the University of North Carolina, officials decided to keep three Confederate monuments in place at the state Capitol in Raleigh.
According to NPR's Merrit Kennedy, the North Carolina Historical Commission voted 9-2 in favor of a motion that says it does not have the authority to recommend the relocation of the three statues. The monuments pay tribute to Confederate soldiers who died in battle, the "women of the Confederacy" and Henry Lawson Wyatt, the first Confederate soldier from North Carolina to be killed in the Civil War.
In its resolution, the historical commission said it felt these monuments are "an overrepresentation and over-memorialization of a difficult era in NC history." Nevertheless, the resolution states, the commission could not recommend moving the sculptures due to a 2015 law stipulating that statues on public property can only be relocated if it is necessary for their preservation—and even then, they must be moved to "locations of similar prominence or honor," according to the resolution.
The commission did, however, make a number of recommendations for changes to the Capitol. It suggested that additional signage be placed near the monuments to "ensure that the significant contributions of African Americans are presented along with an explanation of the struggles they endured in NC as they fought for civil rights and social justice," and to "provide a balanced context and accounting of the monuments' erection in their time in political history." The commission also called for one or more monuments honoring the contributions of North Carolina's African American citizens to be constructed without delay.
Last year, North Carolina Gov. Roy Cooper asked that the statues be relocated to Bentonville Battlefield, the site of a major Civil War battle about an hour away from the Capitol, reports Lynn Bonner of the News & Observer. His request came shortly after the deadly white nationalist rallies in Charlottesville, Virginia, and the subsequent toppling of a Confederate statue in Durham, North Carolina by a group of protestors.
Before reaching its resolution, a historical commission task force held a public hearing, collected some 10,000 public comments and consulted with legal experts and historians. Republican lawmakers informed the commission that it did not have the authority to move the statues, according to Adeel Hassan of the New York Times.
Five members of the task force met on Wednesday before making a recommendation to the wider commission. Bonner of the News & Observer reports that two members were in favor of relocating the statues, but three felt the commission did not have that power. Ultimately, the full commission agreed with the task force's majority.
After the commission's vote, Gov. Cooper, a Democrat, called on the Republican-controlled General Assembly to change the 2015 law so that controversial Confederate monuments can be more easily removed from public property.
"It is time for North Carolina to realize that we can document and learn from our history without idolizing painful symbols," he said in a statement. "North Carolina is welcoming to all, and our most prominent public places should reflect that."