Now Everyone Can Track Yosemite's Bears Online
The park is displaying delayed GPS data on a new website to stop curious humans from scouting out the creatures in real time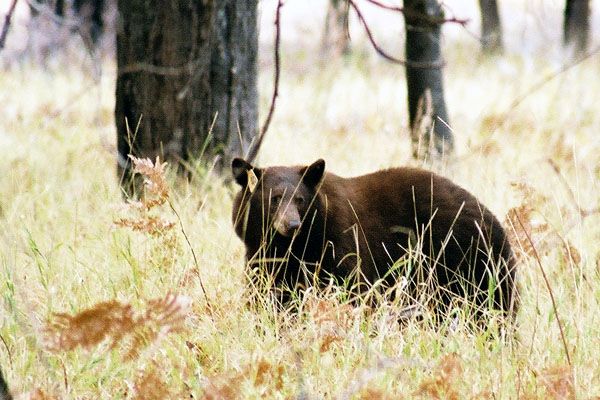 Hundreds of black bears amble through the grassy meadows and dense forests of Yosemite National Park in California. And pesky people often travel shortly behind. But now, thanks to a new tracking system, fans of the furry animals can follow the creatures' meandering paths—from the safety of their couch.
As Scott Smith of the Associated Press reports, the park recently launched a website called Keep Bears Wild. One of the site's main features is the aptly-named "Bear Tracker," which traces the steps of bears that have been fitted with GPS collars. But the animals' locations are delayed, Ryan F. Mandelbaum reports for Gizmodo, so curious humans aren't tempted to scout the bears out. Rangers can turn the data on and off, and tracks will be removed during fall and winter to ensure that the bears can hibernate peacefully.
The goal of the project is to educate the public and whet the appetite of bear enthusiasts, without putting anyone in danger. "KeepBearsWild.org is an important way to raise awareness, appreciation and respect for Yosemite's beloved black bears," Chip Jenkins, Yosemite's acting superintendent, says in a statement. The park hopes that people who are drawn to the website by the Bear Tracker will stick around to learn about other important aspects of bear conservancy. Featured on the site are guidelines that instruct visitors to store food properly, keep a safe distance from the animals and drive slowly through the Park.
These may seem like intuitive precautions, but bears are repeatedly threatened by their interactions with humans. More than 400 of Yosemite's bears have been hit by cars since 1995, according to the Keep Bears Wild site. And bears that feast on human food can become aggressive, forcing rangers to kill them "in the interest of public safety," the site explains.
While the Bear Tracker provides limited data to the general public, it is also useful to park rangers, who can view the bears' steps in real time. For the past year, a team led by wildlife biologist Ryan Leahy has been using the technology to track bears on ipads and computers, according to Ezra David Romero of Valley Public Radio News. And as Smith reports, rangers can follow GPS signals and block bears before they reach campsites.
The tracking devices also help rangers learn more about black bears' behavior. The animals can traverse more than 30 miles in two days, the data suggests, and easily scale the 5,000-foot walls of Yosemite's canyons. The trackers have revealed that the bears begin mating in May—one month earlier than previously thought.
Those interested in learning more about Yosemite and its black bears can check out the Yosemite Bear Team's blog, which includes additional tidbits about rangers' efforts to keep the park safe for both people and bears.