New USGS Map Shows Man-Made Earthquakes Are on the Rise
This updated earthquake hazard map shows seven million more Americans are at risk of quakes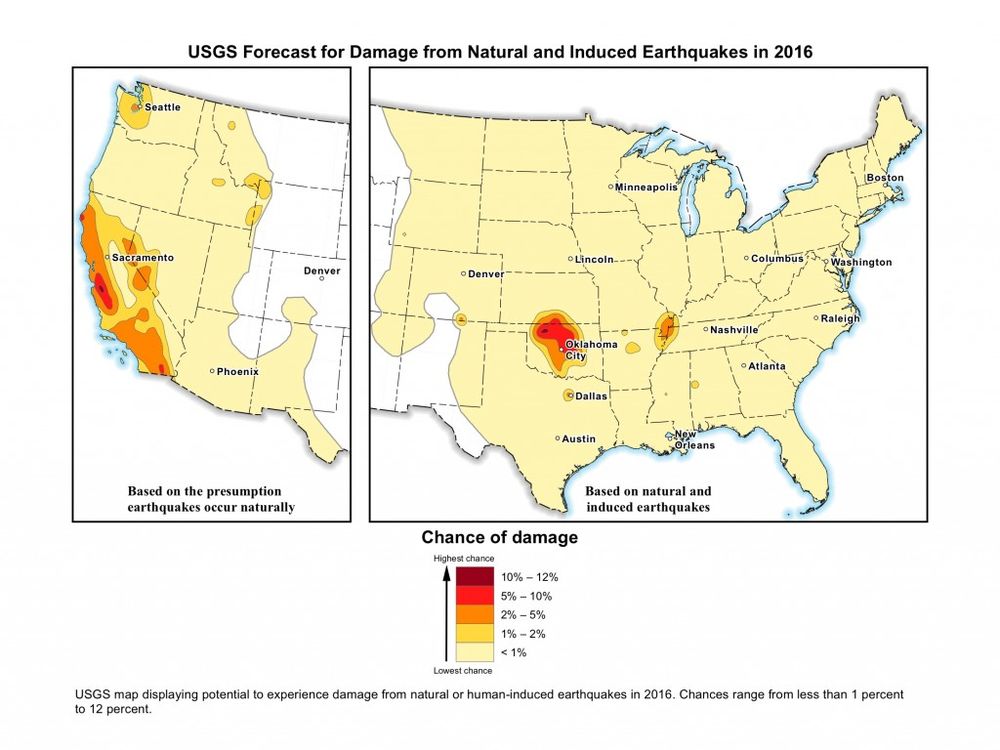 For centuries, there was one thing California offered that other states just didn't have. No, we're not talking great fish tacos or giant sequoias—it's frequent earthquakes. But a new map published by the U.S. Geological Survey shows that several other states, especially in the south central U.S., are quickly catching up with Cali when it comes to ground shakes.
For the first time, the USGS Earthquake Hazard Map includes the potential for human-induced temblors, aka "induced seismicity," caused by fracking and oil and gas exploration, adding roughly seven million Americans to zones of increased earthquake risk. In particular, the states of Oklahoma, Kansas, Texas, Colorado, New Mexico and Arkansas are seeing spikes in seismic activity.
"In the past five years, the USGS has documented high shaking and damage in areas of these six states, mostly from induced earthquakes," says Mark Petersen, head of the mapping project. "Furthermore, the USGS Did You Feel It? website has archived tens of thousands of reports from the public who experienced shaking in those states, including about 1,500 reports of strong shaking or damage."
Peterson says most quakes are attributable to wastewater disposal from oil and gas drilling. The water is injected deep into the ground below drinking water aquifers. The increased pressure from the water can cause local faults, which are all over North America, to slip, causing earthquakes.
According to Sophie Kleeman at Gizmodo, between 1973 and 2008 there were an average of 24 earthquakes of magnitude 3.0 or higher per year in the U.S. Starting in 2009, the beginning of the domestic gas and oil boom, that average rose to 318 per year, and already in 2016 there have been 226 magnitude 3.0 shakes. 
The map will bring home for the first time the fact that many more people are living in earthquake zones with potential for real consequences. Robert Wilonsky at the The Dallas Morning News reports that an earthquake of magnitude 5.6 could damage over 80,000 buildings in the area, costing 9.6 billion dollars. Nearby Irving suffered a 3.6 quake in January 2015.
"The new map serves as a reminder to the local populations living with the recent earthquakes that it is best to be prepared to feel [the] ground shaking," Heather R. DeShon, a seismologist from Southern Methodist University tells Joel Achenbach at the The Washington Post.
Some worry that the spread of "induced seismicity" will affect more than geologic faults. According to Sarah Gilman at National Geographic, earthquake insurance prices are going up in Oklahoma. Homeowners and conservationists are suing the energy companies they believe are responsible for inducing the quakes in the area, including a 5.6 shaker near the town of Prague in 2011.
"Oklahoma citizens are now having to open their own pocketbooks for insurance protection," Johnson Bridgwater, director of the Oklahoma chapter of the Sierra Club tells Gilman. "And they're obviously upset and think industry should have to cover that."
Because changes in energy exploration and government regulation can rapidly change the quake outlook, the USGS now says it will update the hazard map each year as a companion to its usual 50-year earthquake forecast. The recent collapse in oil prices as well as increased regulation of wastewater injection practices may completely redraw next year's hazard map.