Explore the Nine Newest National Recreation Trails
Announced on Friday, the newly designated routes span a total of 340 miles across nine states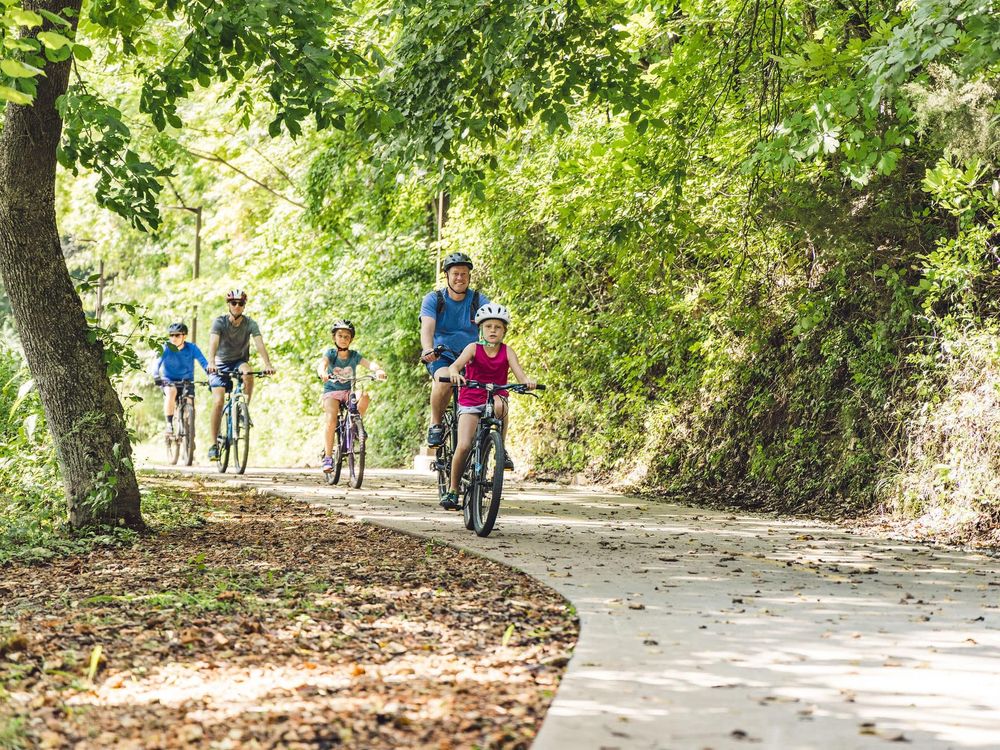 From the lush, tree-covered peaks of the Ozark Mountains to the babbling Fox River in southeast Wisconsin and northeast Illinois, the nation's trail system just got a big upgrade: Secretary of the Interior Deb Haaland has designated nine new national recreation trails spanning 340 total miles in nine states.
The new routes add to America's existing network of more than 1,300 national recreation trails located in every state, plus Puerto Rico and Washington, D.C.
More broadly, the National Trails System—which includes recreational trails, as well as historical and scenic trails—spans 50,000 total miles across the country. Created with the National Trails System Act in 1968, the network is meant to promote access to the outdoors "in both urban and rural settings for people of all ages, interests, skills and physical abilities," per the National Park Service.
"These trails offer an abundance of opportunities to experience the breathtaking landscapes of our country, all while supporting outdoor recreation activities and boosting local economies," says Haaland in a statement.
If you're looking for new destinations to explore, check out one of the additions: 
Crown Zellerbach Trail in Scappoose and Vernonia, Oregon
The 22-mile Crown Zellerbach, or Crown Z, trail is open to horseback riders, runners and walkers of all ability levels. Made primarily of gravel, the route follows the path of the historic Portland and Southwestern Railroad through Oregon's Columbia River wetlands and Coastal Range. It's lined with interpretive signs that offer insights into the region's human and natural history.
Enterprise South Nature Park in Chattanooga, Tennessee
The Enterprise South Nature Park includes 70 miles of trails through 2,800 acres of heavily wooded forests. It's now the longest of the state's national recreation trails, reports Hope McAlee for WATE-TV.
Fabulous Fox! Water Trail in Wisconsin and Illinois
This unique water trail along the Fox River invites kayakers, rafters, canoers and paddle boarders to explore 158 miles throughout southeast Wisconsin and northeast Illinois. It offers more than 70 access points through a variety of landscapes.
Harris Greenway Trail in Gwinnett County, Georgia
This paved, multi-use trail spans over five miles and links two parks on the outskirts of Atlanta: Tribble Mill Park and Harbins Park. It's named after Lloyd N. Harris, who helped strengthen and expand the county's public lands.
Iron Hills Trail System in Utah
Situated on Bureau of Land Management land north of Zion National Park in southwest Utah, the Iron Hills Trail System is perfect for mountain biking, hiking, trail running, horseback riding and other activities.
Old Highway 131 Trail in Kickapoo Valley Reserve, Wisconsin
This four-season trail is beloved by cross-country skiers, snowshoers, cyclists, hikers and pedestrians alike. The state has already created a handy digital interpretive guide for learning more about the region.
Razorback Greenway in Northwest Arkansas
Spanning 40 miles, the Razorback Greenway is an ideal jumping off point for exploring the Ozark Mountains of northwest Arkansas. It connects the cities of Fayetteville, Johnson, Springdale, Lowell, Rogers, Bentonville and Bella Vista, while also providing access to museums, historic sites, entertainment venues, lakes and local businesses.
Vernon Bush Garden Trail in Jackson County, Alabama
Located at Jackson County Park, the one-mile Vernon Bush Garden Trail is lined with thousands of plants, flowers and trees, including hydrangeas, azaleas and trilliums. It's named after longtime volunteer Vernon Bush, who dedicated thousands of hours to beautifying the park. Bush, who died in 2020 at age 83, would no doubt be proud to be honored among such an "elite group" of trails, says Steven Pereira, the county's parks and recreation director, to the Bama Buzz's Pat Byington.
Wilson Creek Trail in McKinney, Texas
With nearly ten scenic miles to explore, Texas' Wilson Creek Trail links Bonnie Wenk Park and Towne Lake Park. For adventurous four-legged friends, it also includes a special 0.44-mile dog park loop.