Satellite Images Show Frightening Intensity of California Wildfires
Thick plumes of smoke can be seen blowing across the Pacific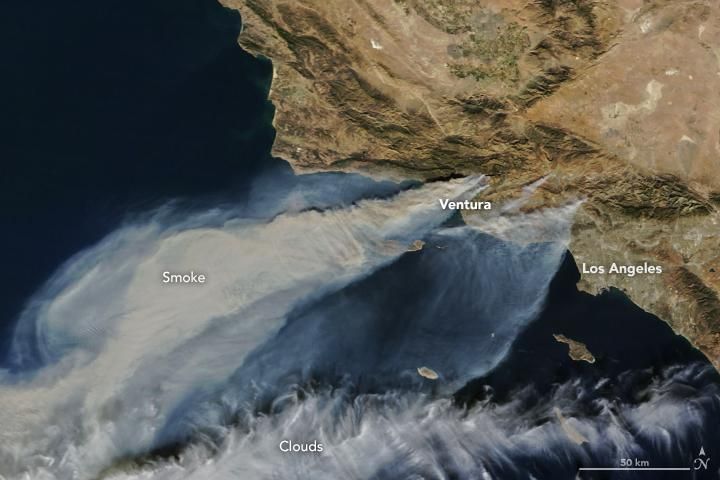 Multiple wildfires are raging across Southern California, forcing thousands of residents to evacuate and destroying hundreds of buildings and homes. Fanned by gusty Santa Ana winds, the ferocious fires are visible from space, reports Jessica Perez of the Los Angeles Times. 
NASA has released a natural-color image captured by the Moderate Resolution Imaging Spectroradiometer on its Terra satellite, which shows thick plumes of smoke pouring over the Pacific. Much of the smoke comes from the Thomas fire in Ventura County, which began on Monday night, according to Talia Avakian of Time's Travel + Leisure. It is the largest of the California blazes, burning through more than 50,000 acres in less than a day. But plumes from the Creek and Rye fires, which are both burning in Los Angeles County, are also visible in the NASA image.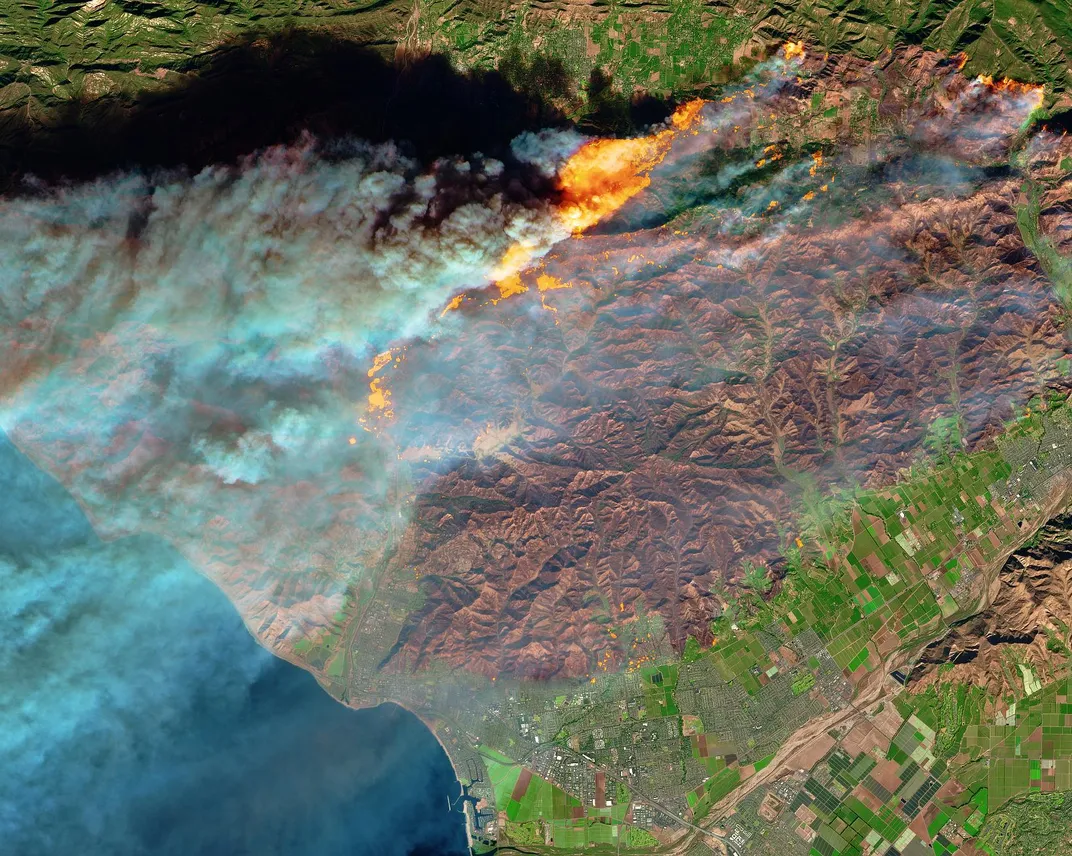 Also on December 5, the European Space Agency's Sentinel-2 satellite captured a false-color image of the burn scar left by the fire in Ventura County. Relying on observations of visible, shortwave infrared and near-infrared light, the image shows a vast swath of brown stretching across the area, which contrasts starkly with vibrant green patches of unburned vegetation. 
More than 1,770 personnel are working to fight the Thomas fire alone. Some 38,000 people have been ordered to evacuate from Ventura County. No civilian injuries or fatalities have been reported, but officials have stressed that residents face grave danger if they do not comply with mandatory evacuations, according to Mark Berman and Eli Rosenberg of the Washington Post.
Santa Ana winds, which are carrying hot and dry air from inland, have intensified the fires in Ventura County, reports Kalhan Rosenblatt and Corky Siemaszko of NBC News. Though the winds are expected to temporarily decrease in intensity on Wednesday, officials believe they will pick up again overnight.
On Wednesday morning, yet another blaze, which has been dubbed the Skirball Fire, erupted in the city of Los Angeles. Eric Garcetti, the city's mayor, has declared a state of emergency and said that up to 150,000 people lived in evacuation areas.
"We have lost structures; we have not lost lives," Garcetti said in an address to residents, according to Berman and Rosenberg. "Do not wait. Leave your homes."