Lion Saved from Syrian Zoo Gives Birth
Just hours after reaching its new home following a daring rescue, the lion gave birth to a healthy cub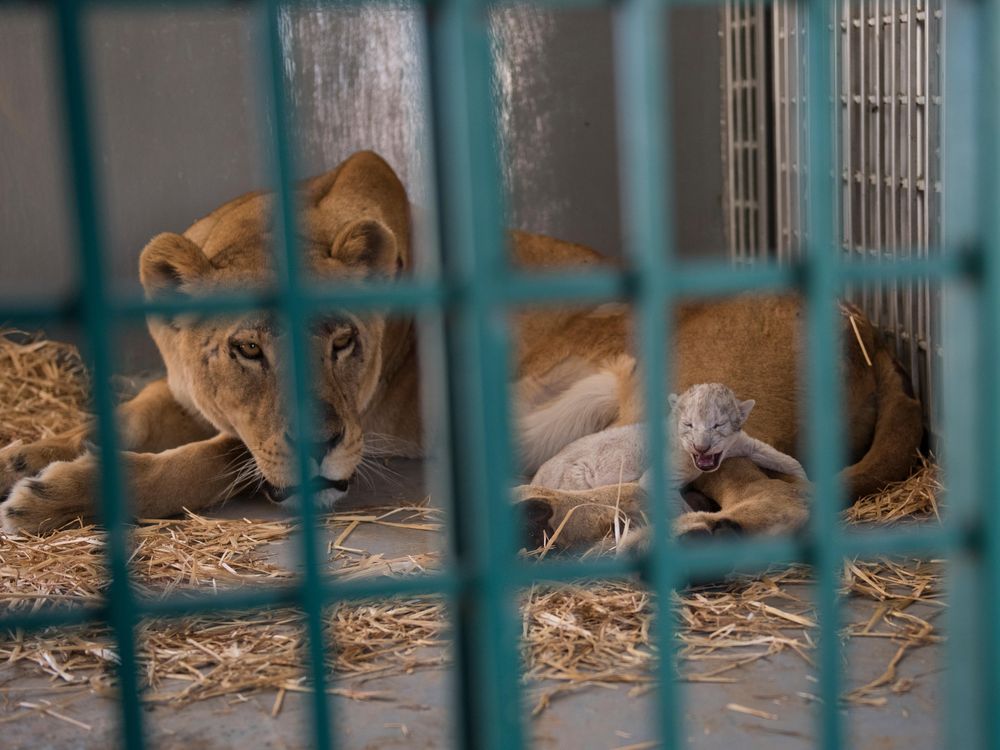 Hours after reaching its new home, a starving lion rescued from an abandoned Syrian zoo gave birth to an apparently healthy cub.
"Our team on site was very concerned about whether the lioness would accept the cub or kill it, as this is what lions sometimes do when they are under enormous stress," Four Paws International, a British animal welfare charity that rescued the lion, says in a statement. "But luckily that wasn't the case. She cleaned the cub and nursed it. This is a true sign that she feels safe."
The lioness, named Dana, was one of 13 animals that had been housed at a zoo called "The Magic World" outside of the war-torn Syrian city of Aleppo, writes Karin Laub for the Associated Press. As the animal news website The Dodo documented in April, local volunteers were struggling to feed the animals in a region already at the brink of starvation.
Ultimately, the only way to save the animals would be to extract them from the country, but transporting a group of bears, lions, tigers, hyenas and dogs from a zoo in an active war zone required a dangerous and well-planned operation, as Megan Specia of the New York Times captured last month.
The animals were caged and driven on a truck from Syria to Turkey before being flown to a wildlife refuge in Jordan, Laub reports. After three weeks in their cages, the animals were released into the sanctuary last Friday.
"The last weeks were nerve-racking and exhausting for the animals and our team as well. We were all pushed to our limits," veterinarian Amir Khalil, head of the mission, said in a statement.
Since the Four Paws rescue team had known that the lion Dana was pregnant before the journey, they were concerned that it would be born during the rescue trip, in which case it would likely not survive. However, on Friday night, Dana gave birth to a cub named Hajar, or "the immigrant" in Arabic. The gender of the cub remains unknown, according to the AP.
An ultrasound had previously shown Dana pregnant with two cubs, but veterinarians are now unsure whether the second cub has been born and eaten by the mother, or whether it's still in the womb. Khalil said the chances of the second cub being born alive are low.
"It is important that Dana gets the medical attention and rest that she needs," Khalil says in a statement. "We are already blessed to have not only saved thirteen animals from Syria but fourteen."