Library of Congress Names Tracy K. Smith As New Poet Laureate
Smith previously won a Pulitzer Prize for her work, which is by turns philosophical, fantastical and deeply personal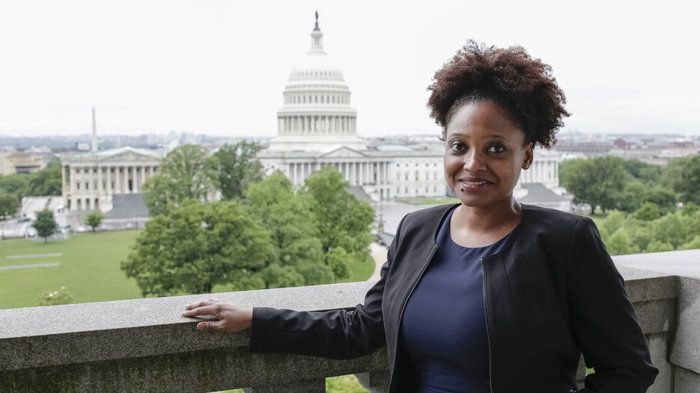 Tracy K. Smith is among the most admired poets of the modern era. Her dazzling, genre-bending poetry has earned her a slew of prestigious awards, including the Pulitzer Prize for Poetry. And now Smith can add another accomplishment to her storied resume. As Alexandra Alter reports for the New York Times, the Library of Congress has named Smith as its new poet laureate.
She is the 22nd person to receive the honor, brining her in league with the esteemed poets like Charles Simic, W.S. Merwin, and Rita Dove. The previous poet laureate was Juan Felipe Herrera, who held the position for two terms.
Smith is the author of three collections: "The Body's Question," "Duende," and "Life on Mars," which won the Pulitzer in 2012. Librarian of Congress Carla Hayden, who appointed Smith as poet laureate, says in a statement that her "work travels the world and takes on its voices" and "brings history and memory to life."
The job requirements of the poet laureate are nonspecific, but past honorees have "initiated poetry projects that broaden the audiences for poetry," according to the Library of Congress statement. It seems a fitting role for Smith, whose poetry—while stunning and profound—is devoid of the fustiness something that has stubbornly dogged the genre.
Often, Smith weaves references to sci-fi, popular culture and space into her work. In "Don't You Wonder, Sometimes?" for instance, she wrangles with the enormity of the universe, and renders David Bowie as a cosmic, all-seeing figure:
He leaves no tracks. Slips past, quick as a cat. That's Bowie
For you: the Pope of Pop, coy as Christ. Like a play
Within a play, he's trademarked twice. The hours
Plink past like water from a window A/C. We sweat it out,
Teach ourselves to wait. Silently, lazily, collapse happens.
But not for Bowie. He cocks his head, grins that wicked grin.
Time never stops, but does it end? And how many lives
Before take-off, before we find ourselves
Beyond ourselves, all glam-glow, all twinkle and gold?
Smith's poetry is also deeply personal. As Camila Domonoske reports in NPR, the poet's father worked on the Hubble Telescope, and "Life on Mars" often reflects on his experience. In "My God, It's Full of Stars," Smith writes:
My father spent whole seasons
Bowing before the oracle-eye, hungry for what it would find.
His face lit-up whenever anyone asked, and his arms would rise
As if he were weightless, perfectly at ease in the never-ending
Night of space. 
Smith tells Alter that within her capacity as poet laureate, she plans to hold poetry events in small towns "where literary festivals don't always go," in the hopes of bringing the beauty and delight of poetry to new audiences.