Hyperlapse Is the Coolest Thing to Happen to Google Maps Since Street View
Hyperlapse photography is super hard to do, but the results are just incredible
Hyperlapse photography is super hard to do, but the results are just incredible. Combining the sequential shooting of time lapse photography with carefully controlled camera movements—often over huge distances—hyperlapse photography transports you through stunning vistas at an unreal speed. Watching one gives you the sense of cruising along atop a speedy motorcycle, blowing through the landscape at top gear. Careful pans of the camera let you focus on a point of interest. Pointing dead ahead gives you that rush of speed.
But where hyperlapse videos are gorgeous, they're also hard to pull off. The folks at Teehan+Lax Labs, says The Verge, released a free web tool to let you build hyperlapse videos using the images captured by Google's street view cameras.
Google's photos aren't as stunning as you'll get from a custom hyperlapse, but as the video above shows, the results can be quite spectacular.
We decided to speed not along a dusty open road, but through downtown Washington, D.C., a hyperlapse trip around the Smithsonian castle.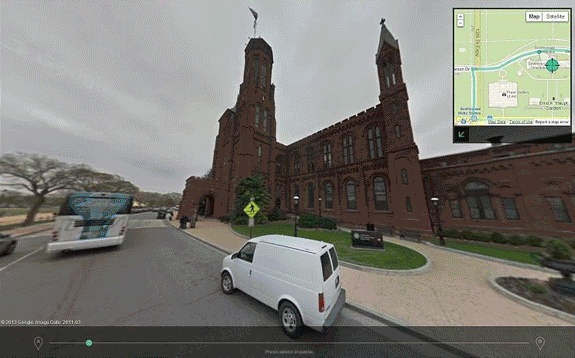 To make the app free and open to all without destroying Google's servers with tons of requests for images, says PetaPixel, the tool has to make some concessions—you only get sixty photos for your video. But, if you know how to code, they've made the entire system freely available for you to tinker to your heart's content.
More from Smithsonian.com:
Amazing Shots Captured by Google Street View
Google Brings Street View to the Great Barrier Reef