The 'Flying Scotsman' Made Train History When The Speedometer Hit 100
The first locomotive to hit 100 miles per hour was billed as "The Most Famous Train in the World"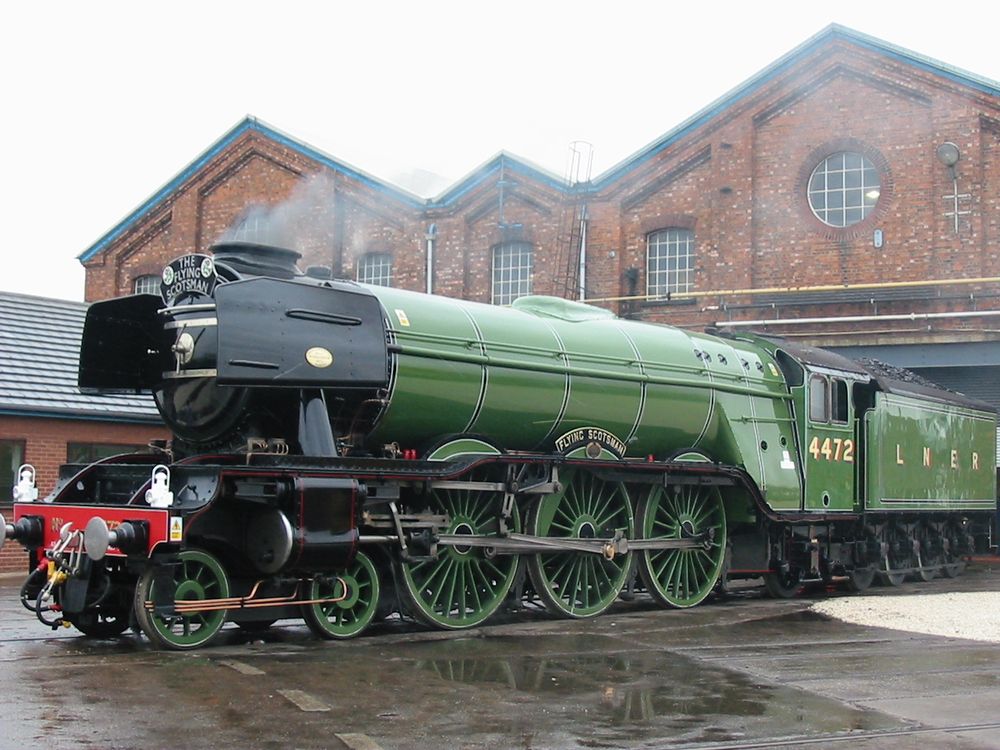 Train technology shaped the twentieth century and seems poised to help shape the 21st, but it's hard to imagine another locomotive will reach the iconic status of the Flying Scotsman.
The LNER Class A3 4472 Flying Scotsman has set records and travelled the world. It all began on this day in 1934. Then, the "Flying Scotsman" became the first steam locomotive to be officially recorded reaching 100 mph, during the 393-mile trip for London and Edinbugh.  The British rail industry in the 1920s and 1930s was competing with new roadways for passengers, meaning that keeping up a reputation for speed and efficiency was extremely important.
The train ran the "Flying Scotsman" route from 1928 to 1963, leading the locomotive to be often called the name of its route, writes the National Railway Museum, its current owners. The Flying Scotsman route was marketed as "The Most Famous Train in the World," so it's no surprise that the record-breaking locomotive that ran it became the most known as the most famous locomotive in the world in the 1960s. In its time in regular service, the train travelled two million miles, writes the BBC. But retirement was just the start of the Scotsman's adventures.
The train travelled the world, making visits to different countries and even breaking another record in 1989, this one for the longest non-stop steam run of 422 miles. The National Railway Museum bought it in 2004, and it was on blocks between 2006 and early 2016. This January, the refurbished engine moved under its own power for the first time. Restoring the piece of Britain's railway history cost £4.5 million, writes James S. Baldwin for The History Press. Saving the Scotsman after it was bought by the museum became something of a cause.
The Scotsman is beloved, but Japan's Shinkansen high-speed "bullet train" system left the speedrecord in the dust after it opened in 1964, with one line of the new network reaching 130 mph, according to The Japan News. Earlier this November, that train line broke its own record of 366 miles per hour with a new record of 374 miles per hour, set only last month. Japan owes its new records to the new trains' "maglev" designs that use powerful electromagnets to levitate the train rather than wheels.
High-speed train systems are a hot topic in the U.S. as well, and the vision of a future where fast ground transport replaces air travel doesn't seem totally out of the question. Hard to believe that little more than 80 years ago, the Scotsman's 100 mph set records. But with its restoration, everyone can see some of train history's high-speed beginnings.