Fly Through Space With This "Mixed Reality" Coaster
The park promises it won't give you motion sickness—well, more than on a regular rollar coaster, that is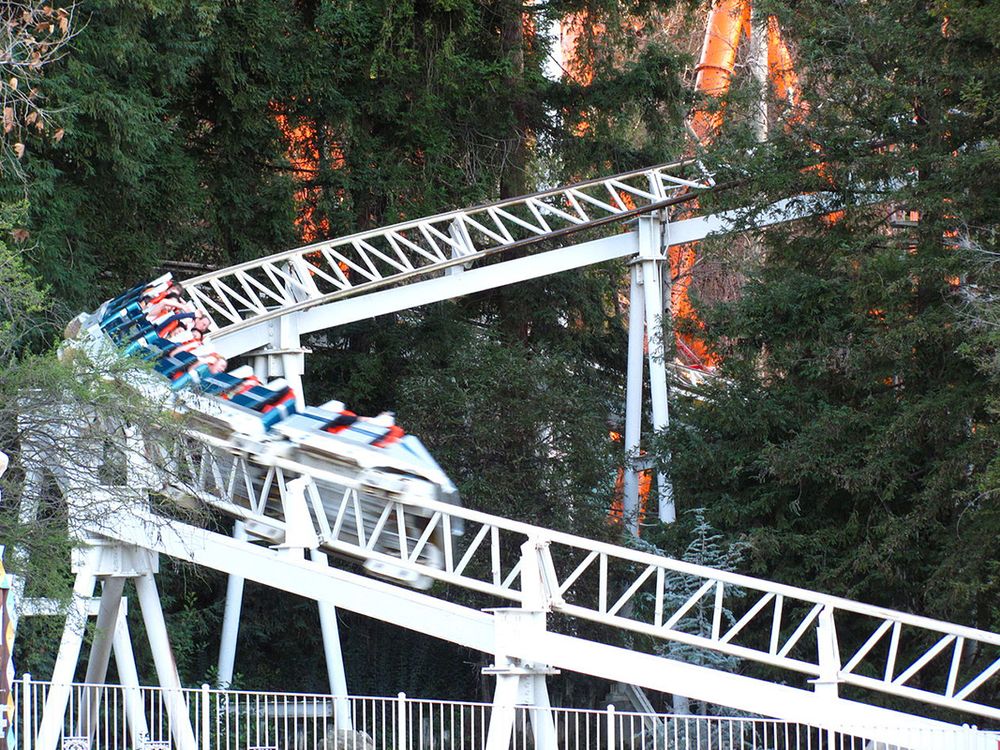 For some rollercoaster enthusiasts, zooming at high speeds on a looping, twisting track isn't enough of a thrill. So in recent years, amusement parks have risen to the challenge by adding Virtual Reality into the mix. Now two Six Flags parks in California just upped the ante with an interactive, VR rollercoaster they are calling "Galactic Attack," reports Steve Dent for Engadget.  
Last March, Six Flags updated its New Revolution roller coaster at Magic Mountain in California, converting it to the the first VR coaster adventure. Passengers were given the option to sport Samsung Gear VR headsets and zip through a variety of 360-degree adventures while careening around corners on the ride, Erin Blakemore reported for Smithsonian.com at the time. But with its latest update, Galactic Attack, the amusement park is now trying to tap into the lucrative world of gaming.
The new headsets are equipped with Samsung's passthrough camera, which means that the headset can overlay virtual characters and scenery atop the rider's actual surroundings, Dent reports. Though some parts are entirely virtual, writes Natt Garun for The Verge, riders can actually see the outside world (including fellow roller coaster passengers). These new headsets don't simply lock riders in a "digital box," Dent writes.
Passengers will also be able to interact with the virtual space in a "complex gameplay," according to a press release. As they zip through the course, the riders can make key decisions that will ultimately affect their end score and lead to three alternate endings. How this gaming actually plays out, however, remains to be seen untill the ride opens at the end of this month.
According to the park, riders shouldn't feel any more motion sickness than expected on a regular roller coaster, reports Garun. Because the graphics are supposedly synced to the movement of the train, your body should only be reacting to the coaster movement. "Gyros, accelerometers and proximity sensors" help with this synchronization, according to Blakemore.
At this point, it seems, both gaming and VR have seeped into every corner of actual reality. And for roller coasters it's now adding new challenges—for the mind and perhaps the stomach. "I know the layout [like] the back of my hand," Al Clowe, who rode the Superman VR experience at the Six Flags in Maryland, told Wesley Yiin at the Washington Post after it opened last year. "But when you integrate it with virtual reality, it's completely different."  
Galactic Attack will be open February 25 on the New Revolution coaster at Six Flags Magic Mountain in Valencia and on the 115-foot-tall Kong coaster at Six Flags Discovery Kingdom in Vallejo.