Dr. Seuss Museum Opens in Massachusetts
The Amazing World of Dr. Seuss features a life-sized Wump of Gump, a recreation of Sala-ma-Sond, and replicas of the author's childhood haunts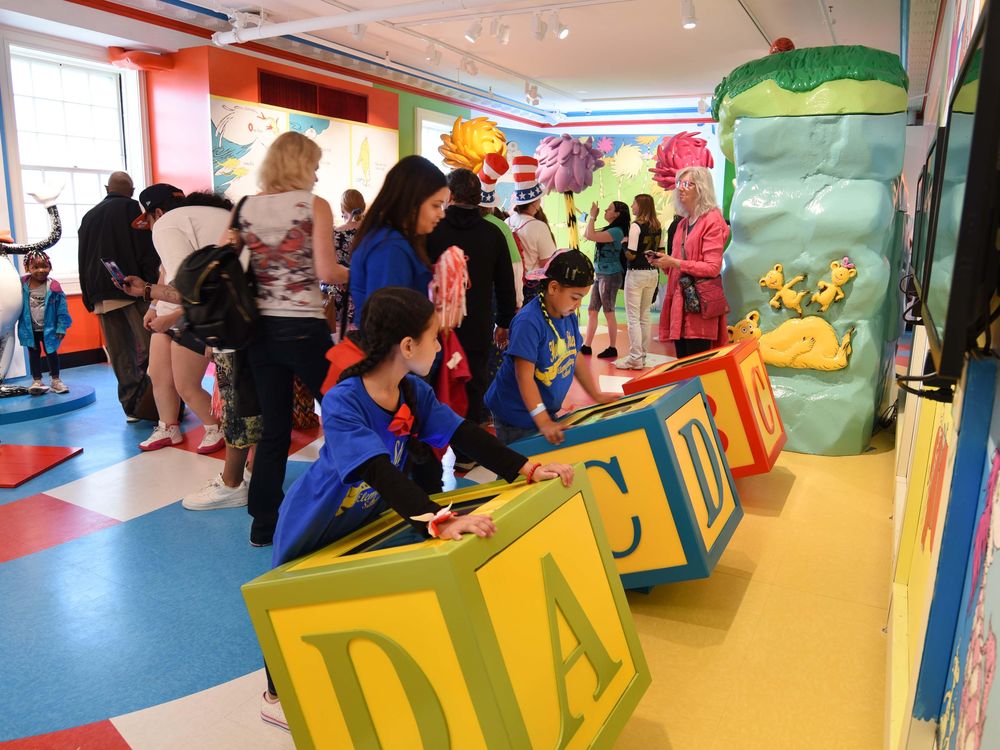 Dr. Seuss' books have delighted little ones and big ones alike for decades, and a new museum seeks to bring the author's fantastical fiction to life. As Hayley Crombleholme reports for the WWLP, the Amazing World of Dr. Seuss Museum recently opened to the public in Seuss' hometown of Springfield, Massachusetts. Some 1,800 visitors lucky enough to get a timed ticket wandered through the museum's colorful corridors, which shed light on the life and work of Theodore Geisel—the man behind the famous penname.
Interactive exhibits on the museum's first floor let kids explore a recreation of the far-away Island of Sala-ma-Sond, climb atop a seven-humped Wump of Gump, and build careening towers of plates and cakes with Cat in the Hat. According to the museum's website, the exhibits are specially designed to foster reading skills. A replica of the railroad cave from Green Eggs and Ham, for instance, is packed with word game stations. In another part of the exhibition, kids can assemble blocks painted with pictures and words to create rhyming, Seuss-like narratives.
Seuss' controversial political cartoons, Mark Pratt of the Associated Press points out, have been left out of the museum—a decision that critics call an attempt to brush over a body of work that often relied on racist caricatures. 
Kay Simpson, president of the Springfield Museums complex that houses the new shrine to Seuss, tells Pratt that the museum "is about visitors encountering the creatures that sprang out from Ted Geisel's imagination — Horton, the Cat in the Hat, the Lorax, Sam I Am — that got kids excited about reading, which was really his preoccupation later on in his career." 
The second floor of the building displays items from Geisel's California studio, along with his impressive collection of 117 bowties. Geisel's relatives donated the author's personal letters and rarely seen drawings, which are also on display.
The museum also takes fans back to Geisel's early days in Springfield, and children can play in replicas like the local bakery run by Geisel's grandparents. Because the young Geisel was known to practice his art on his bedroom walls, visitors can scribble on a large touchscreen inside a replica of the author's childhood bedroom. "Unlike many mothers," the museum's website notes, "Ted's mom was delighted by his whimsical crayoned animals."
There's plenty of other whimsical fun to be found throughout the museum as well, along with opportunities to learn—about words, and rhymes, and about Seuss himself. After all, as the author famously wrote, "The more that you learn, the more places you'll go."