Christine Keeler, the British Model at the Heart of a 1960s Political Scandal, Is Dead at 75
Keeler had simultaneous relationships with a Conservative politician and a Soviet attaché, prompting concerns that she had revealed British state secrets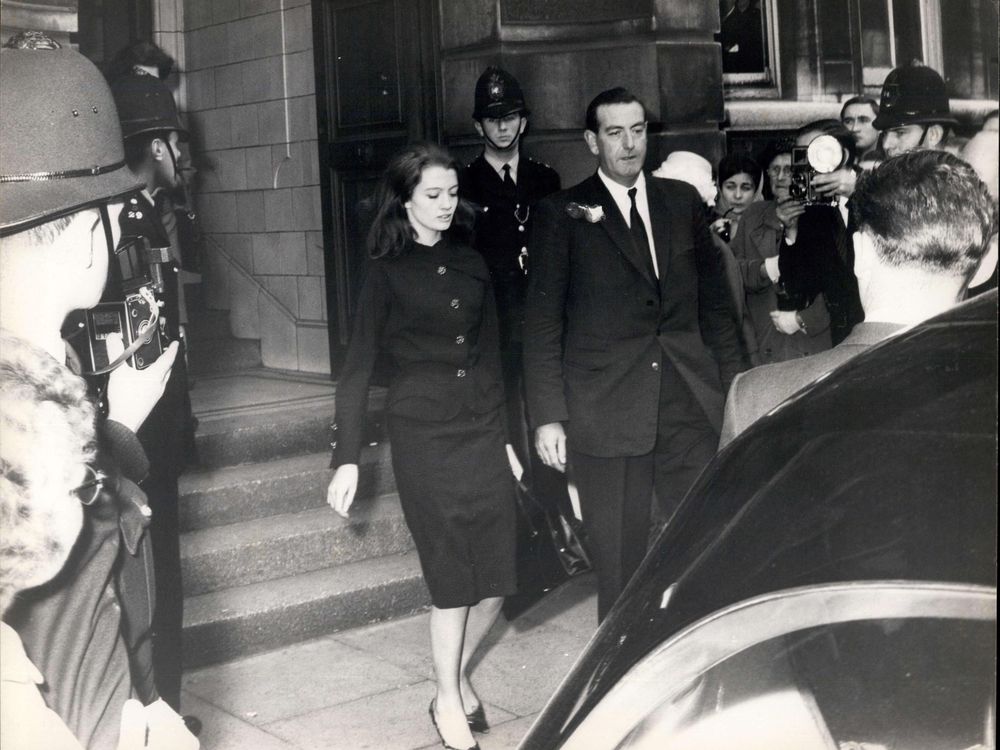 Christine Keeler, the former model whose involvement with a British politician created an explosive national scandal in the 1960s, has died at the age of 75.
As Matt Schudel of the Washington Post reports, Keeler's son, Seymour Platt, announced in a Facebook post on Tuesday that his mother had died of chronic obstructive pulmonary disease, writing, "She earned her place in British history but at a huge personal price." He added, "We are all very proud of who she was."
In 1961, Keeler met John Profumo, Britain's secretary of state for war, at the estate of a well-heeled lord. Profumo was 46 and married; Keeler was 19. The two struck up an affair that lasted several months. Later, it would surface that Keeler had simultaneously been seeing Yevgeny Ivanov, an attaché in the Soviet Embassy in London, who was widely believed to be Russian spy. This in turn led to concerns that Keeler had been passing state secrets from Profumo to Ivanov.
Keeler was born in 1942, in Uxbridge, England. She had a difficult childhood, living with her mother and stepfather in a converted railway carriage. Keeler later said that she was so frightened of her stepfather that she slept with a knife under her pillow. When she was 17, Keeler gave birth to a baby boy who died after six days, reports Peter Stanford of the Guardian.
In the late 1950s, Keeler got a job as a topless dancer at a cabaret club in London. It was there that she met Stephen Ward, an osteopath with connections to Britain's upper crust. Ward introduced Keeler to Lord Bill Astor, the owner of the estate where she first encountered John Profumo.
The affair between Profumo and Keeler might have stayed a secret were it not for another of Keeler's lovers, Johnny Edgecombe. According to accounts, Keeler started the affair with Edgecombe to distance herself from a fractious relationship with Aloysius "Lucky" Gordon, which she said had become abusive.
In October of 1962, Edgecombe and Gordon got into an altercation in front of a nightclub, which resulted in Gordon having to be given 17 stitches. Edgecombe and Keeler broke things off soon after. Then, on December 14, he appeared at the residence where Keeler and her friend, Mandy Rice-Davies were staying, and fired a gun at the flat.
When Keeler was questioned by police about her involvement in the incident, she revealed details of her dalliances with Profumo and Ivanov.
At the time, Profumo was a rising star of Britain's Conservative party; he had been tapped as a potential future candidate for prime minister. In a desperate attempt to salvage his career, Profumo told the House of Commons in March of 1963 that there was "no impropriety" in his relationship with Keeler, according to Neil Genzlinger of the New York Times. But as more salacious details came to light in the press, he was forced to admit that he had lied.
Profumo resigned in the summer of 1963. Harold Macmillan, who was Prime Minister at the time, also stepped down that year; the so-called "Profumo Affair" was named as one of the causes of his downfall.
In the wake of the Profumo Affair, Keeler was dogged by additional scandals. She spent six months in prison for perjuring herself during the trial brought against Gordon for abuse. Ward, the osteopath who introduced Keeler to British high society, was tried for living off the "immoral earnings" of Keeler and Rice-Davies. He overdosed on sleeping pills before a verdict could be reached.
Keeler was often described as a prostitute, a label that she vociferously refuted. She preferred to call herself a model.
"It's true that I have had sex for money," Keeler wrote in a book about the scandal, according to Genzlinger. "[B]ut only out of desperation, and that is still something that I hate to have to admit even to myself. Ironically, it has been sex for love or lust rather than for money that has always caused me more problems."
Though Keeler did not shy away from the limelight in the years after the Profumo Affair—she wrote three autobiographies, each containing different versions of the story—she said that the scandal had cast a shadow over her life.
"[I]t's been a misery for me, living with Christine Keeler," she told Britain's Observer in 2001, as Schudel of the Washington Post reports. "Even a criminal has the right to a new life, but they made sure I did not have that. They just didn't stop calling me a prostitute for ever and ever and ever and ever. How can anyone live with that?"
Keeler wanted to be an actress, but those dreams never materialized. Though she changed her name to C.M. Sloane, Keeler struggled to find work and spent the end of her life in poverty.
Platt, Keeler's son, tells Caroline Davies of the Guardian that an unjust notoriety had contributed to his mother's struggles.
"She was just a young girl having fun during the burgeoning of sexual liberation," he says. "She picked up labels, which I think were quite unfair."