Chicago Cancels Sale of Kerry James Marshall's 'Knowledge and Wonder'
The site-specific mural, featuring black children and adults gazing at the marvels of the universe, will not go up for auction following intense criticism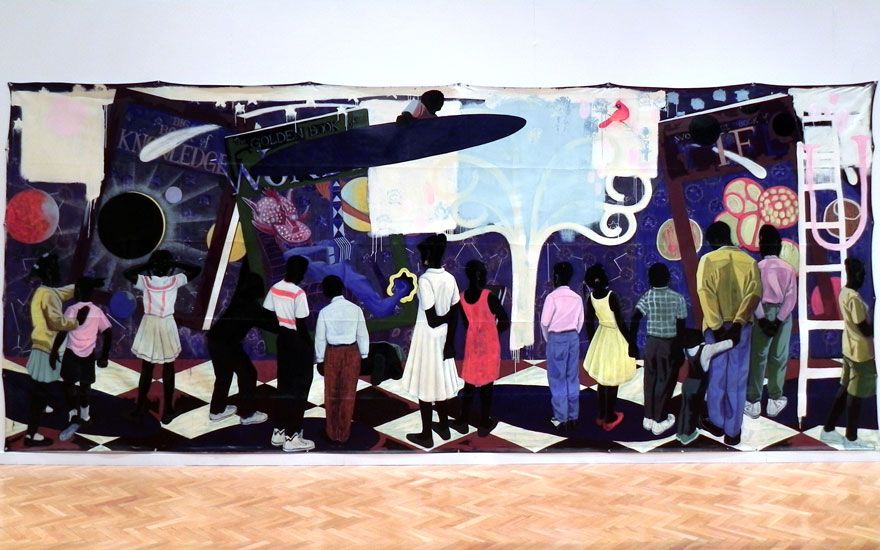 Kerry James Marshall's "Knowledge and Wonder" is staying put. Following protests by the artist and civic leaders, Chicago Mayor Rahm Emanuel announced this week that the city will not auction off the large-scale public artwork, as Steve Johnson at The Chicago Tribune reports.
According to Anny Shaw at The Art Newspaper, the controversy followed the record-breaking sale of another of Marshall's large-scale paintings, "Past Times," which state-owned McCormick Place convention center in Chicago sold for $21.1 million at Sotheby's in May. That sale was the largest amount ever paid for a work by a living African-American artist. The rise in valuation of Marshall's artwork that followed led to the realization that "Knowledge and Wonder," the roughly 10-by-23-foot piece was hanging, with little protection, in the Legler Branch of the Chicago Public Library, where it had been commissioned for $10,000 back in 1995.
According to Katya Kazakina at Bloomberg News, Christie's contacted the city in September "offering an attractive estimate." The mayor agreed to the auction, unveiling plans in October to use the funds of the sale, estimated to be around $10 million, to expand and update the Legler branch into a regional library for the city's west side and create a new fund to commission public artwork from up and coming artists.
Immediately following the announcement, however, critics lambasted the sale, calling it a theft from the public and an affront to the artist. Marshall himself, who is now 63 and lives in the Chicago neighborhood Bronzeville, denounced the decision. Last year, he had donated a new mural to the city, accepting just $1 for the commission. "It just seemed like a way of exploiting the work of artists in the city for short-term gain in a really shortsighted kind of way," he tells Johnson of the Tribune. "It certainly would make one believe there's no reason to do anything because you have some kind of civic pride as a citizen."
The backlash, and Marshall's objections, in particular, led to the cancelation of the sale. "I was swimming and thought, 'This is not what I wanted, given the city's contributions to public art, and Kerry's a friend and also a great ambassador for Chicago,'" the mayor tells Johnson. "I reached out to him and said, 'Look, I don't want this. If you're not happy, I don't want to go forward.'"
Christie's also stepped back from the controversy, releasing a statement that read: "All parties involved are delighted that Kerry James Marshall's 'Knowledge and Wonder' will stay in Chicago–that had been a shared goal for the city and Christie's throughout the sale process, and one we were actively working towards together these last weeks."
The massive painting is now scheduled to be reinstalled in the library, according to Kazakina in a separate piece for Bloomberg.
Marshall, for one, is happy the painting, which depicts a group of 15 black children and adults gazing upon super-sized books, the Tree of Knowledge as well as celestial objects, will remain to inspire library-goers in the predominantly African-American neighborhood of West Garfield Park.
"That piece, because it was made for that library, it belonged in that library. It wasn't just a picture. It was a very specific thing for a very specific place," he tells Johnson in a separate article for the Tribune. "You never expect public works to be sold at any time. And so it was a surprise on a lot of levels that that work was going to come up for sale."
In the wake of the controversy, Marshall announced he is leaving public commissions behind. "I've done about all the public art I think I really want to do," he says. "The work I do now, I want to be less accommodating and less compromising … There's too many contingencies that go with public art, and there are more compromises than I think I'm going to be willing to make from here on out."
There's certainly a market for whatever he does next. In another story for The Art Newspaper, Shaw explores the recent surge in interest in acquiring Marshall's art over the past few years, reporting that museums and high-profile collectors including Michelle Obama, Beyoncé and Sean Combs, who purchased "Past Times," are among those seeking out the artist's highly stylized, narrative-rich work that is known for asserting a space for black protagonists within the Western art canon.