Canada's New Two-Dollar Coins Glow in the Dark
The two-dollar coins celebrate the nation's 150th anniversary and include a scene with Northern Lights that really glow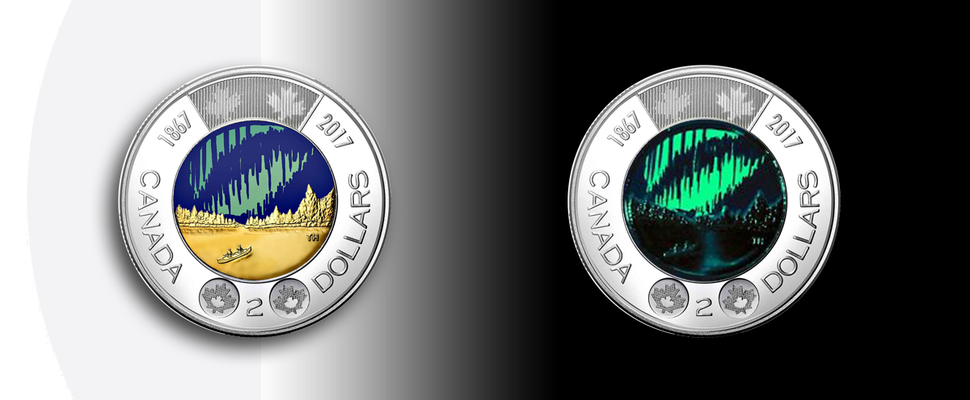 Next time you're in Canada and toss your change on the nightstand, don't freak out if some of the coins give off an eerie glow in the middle of the night. Cara Giaimo at Atlas Obscura reports that in honor of Canada's 150th birthday, the nation is releasing glow-in-the-dark Toonies, or two-dollar coins, making them the first luminescent general-circulation coins.
The numismatic razzle dazzle is sure to add even more shine to the year-long commemoration of the 1867 confederation of Canadian colonies into the Dominion of Canada. The new Toonie includes the traditional image of the queen on one side and a canoe floating on a quiet lake in the Boreal forest with the glowing Northern Lights above.
The design was one of five chosen in a national contest called "My Canada, My Inspiration" to celebrate the nation's birthday. Other coins include a tribute to the country's national railway system, an eight-year-old's call for a "Green Future," a coin celebrating peace (invoking the iconic maple leaf) and a five-cent coin honoring Canada's indigenous Algonkian people.
Those coins are all being presented in special commemorative set, though the boreal forest scene, called "Dance of the Spirits" is the only one receiving the glow-in-the-dark treatment. According to the Mint, the design by Timothy Hsia of Richmond, British Columbia, will also be the first colored bimetallic coin produced in the world (settle down coin nerds). Chris Hannay at The Globe and Mail reports that once the luminescent coin goes into general circulation, one in 10 Canadians will eventually get their hands on one.
It's not the first time the mint has produced glow-in-the-dark coins. In 2012, it released collectible quarters featuring prehistoric creatures including dinosaurs whose skeletons light up in the dark. And, for Canada 150, the mint is also releasing another collectible glow-in-the-dark coin featuring the Canadian flag in front of a glowing fireworks display. Neither were designed for general circulation, however.
While the new coin is a cool way to celebrate the sesquicentennial, there's another reason for vaunting the coin-tech. Hannay reports that the mint is in heavy competition with other mints for business from nations around the world. In fact, the mint makes the currency for Indonesia, the UAE and Jamaica among dozens of others. Offering things like glow-in-the-dark coins or vegetarian-friendly plastic currency shows off the Mint's cutting-edge innovations.
There's no word on what type of paint is used to make the coin glow, but we're pretty sure (and really hoping) they aren't using radium.