This Beach Sculpture Is Modeled After Norwegian Fish Drying Racks
Norway's SALT festival involves music, sauna's and architecture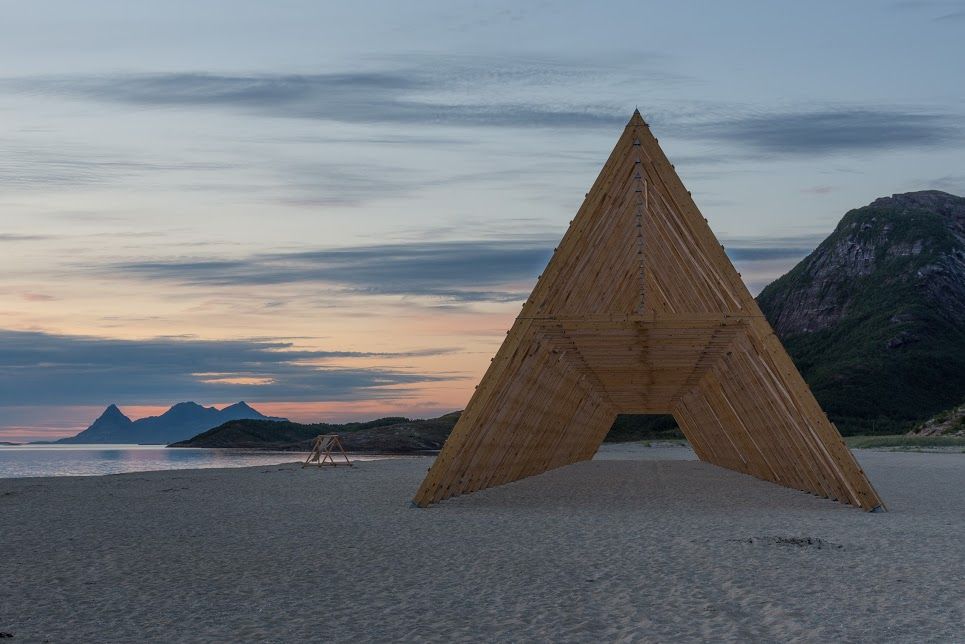 Summer is winding down, and what better way to spend your Labor Day weekend than sitting on a beautiful beach…in Norway? Norway's SALT festival is kicking off this weekend an a tiny island called Sandhornøya above the Arctic Circle. 
The festival, focused on Arctic arts, will feature music, films, and sculptures, including a massive sculpture made to look like traditional fish drying racks (pictured above). Because it is situated on a remote island, lodging has also been constructed, along with a restaurant and a combination sauna/performance space. 
From AnOther Magazine:
For entertainment, guests can take in work from international artists (starting with a film installation by Chinese artist Yang Fudong) and enjoy concerts and talks in the 'Amfi' – an insulated space that will serve as both an amphitheatre for 120 people and, simultaneously, the world's largest sauna. As film screenings, debates, concerts and seminars unfold, two large wood burning stoves will provide either room temperature comfort or intense sauna heat, with a bar standing by to refresh audiences throughout.
In addition to the buildings, there is the place itself. "It has this really special white sand," architect Joar Nango, who built some of the shelters on the beach told the Guardian. "Right behind there's a 500-metre-tall, black mountain wall which is totally vertical. In the wall, there are eight pairs of eagles nesting. It's a magical place."
If you can't make it to Norway this weekend, don't worry. The festival, along with its sculptures and buildings will stay on the beach until next September, and the festival's founders hope that it will continue after that, moving from Norway to Greenland, and from there on to other Arctic locales.